Shopping Cart
Your Cart is Empty
There was an error with PayPal
Click here to try again
Thank you for your business!
You should be receiving an order confirmation from Paypal shortly.
Exit Shopping Cart
| | |
| --- | --- |
| Posted on May 26, 2015 at 1:59 PM | |

A couple of months ago, I entered a
Manuscript Evaluation Contest
run by
Barbara Kyle
.
Before entering the contest, I watched the video on the
Manuscript Evaluations
page on her website. After all, who wants to win a contest from someone who doesn't have
credentials
or doesn't gain your respect? Not me. My time is valuable.
                                                                                                                        Barbara Kyle

Fortunately, I truly appreciated her presentation. I learned from her. I enjoyed her straight forward approach. She didn't sugar-coat the writing process, but at the same time, she wasn't
derogatory
. She understood that each manuscript was someone's baby. A baby that had consumed large portions of the writer's life. I got the impression that even if the
plot
had holes large enough to drive a Hummer through,
                       Hummer                                                                                           Plot Hole

she possessed the ability to let the author know what needed to be done without wrecking their self-esteem or desire to write another word. That's a pretty fine line. Somehow, she managed to convey that in seven minutes. Can you imagine what she could do in an hour? If I'm wrong, then someone needs to let me know.

                                   Grand Prize: A Full Manuscript Evaluation
                                   NANCY RAVEN SMITH for Land Sharks 

                                   2nd Prize: A 50-page Evaluation
                                   MATTHEW PHILLIPS for Warrior Son
                                   3rd Prize: A 25-page Evaluation
                                   MAUREEN L. BONATCH for See No Evil
Unfortunately none of these three was me. While I didn't win, I still feel that it was worth the effort of entering (she made it very easy). I also feel as if I've made another valuable and accessible contact in the writing world.

I can't wait to see the final product of these manuscript evaluations. Can you say Best Seller?

The Best Part of This Week?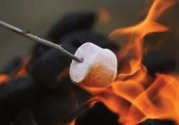 Roasting marshmallows at the park with my family.







Categories: Books in General, Contests & Websites, Everyday Writing, manuscript evaluation, editing

0

/