Shopping Cart
Your Cart is Empty
There was an error with PayPal
Click here to try again
Thank you for your business!
You should be receiving an order confirmation from Paypal shortly.
Exit Shopping Cart
Here's the list. Did you read any of the same books I did? If so, what's your opinion of them? Let's discuss.
2016 Reading List
1.      Dead Witch Walking by Kim Harrison
2.      The Good, the Bad, and the Undead by Kim Harrison
3.      Every Which Way But Dead by Kim Harrison
4.      A Fistful of Charms by Kim Harrison
5.      For a Few Demons More by Kim Harrison
6.      The Outlaw Demon Wails by Kim Harrison
7.      White Witch, Black Curse by Kim Harrison
8.      Black Magic Sanction by Kim Harrison
9.      Pale Demon by Kim Harrison
10.  A Perfect Blood by Kim Harrison
11.  Ever After by Kim Harrison
12.  The Undead Pool by Kim Harrison
13.  The Witch With No Name by Kim Harrison
14.  Into the Woods by Kim Harrison
15.  Rebecca's Tale by Sally Beauman
16.  The Historian by Elizabeth Kostova
17.  The Revenant by Michael Punke
18.  The Weird Sisters by Eleanor Brown
19.  My Sister Lives on the Mantelpiece by Annabel Pitcher
20.  The Summerhouse by Jude Devereaux
21.  The Library at Mount Char by Scott Hawkins
22.  A Head Full of Ghosts by Paul Tremblay
23.  That Special Grace by Benjamin Bradlee
24.  Sapogonia by Ana Castillo
25.  A Scattering of Bones by Lesann Berry
26.  Tomato Red by Daniel Woodrell
27.  Freud's Sister by Goce Smilevski
28.  Can't Wait to Get to Heaven by Fannie Flagg
29.  The Short Reign of Pippin IV by John Steinbeck
30.  The Tenth Gift by Jane Johnson
31.  Harry Potter and the Cursed Child by J.K. Rowling
32.  Jumping Through Fires by David Nasser
33.  Swan Thieves by Elizabeth Kostova
34.  Creepers by David Morrell
35.  The Maid's Version by Daniel Woodrell
36.  The Twenty-Seventh City by Jonathan Franzen
37.  The Little Paris Bookshop by Nina George
As you can see, the first fourteen books of 2016 were a paranormal series. This is not a common genre for me, but Kim Harrison made the series appealing and a little bit addictive.

I love works that are well-written and send me to the dictionary, and I found that to be the case in Rebecca's Tale by Sally Beauman. This is a sequel to Rebecca by Daphne du Maurier.  Question: Can I call it a sequel if it's not written by the original author? Would the change in author make it Fan Fiction?

The Historian by Elizabeth Kostova sent me to a world map which is equally enjoyable. This novel would be great for a literary road trip.
I found The Revenant by Michael Punke to be somewhat disappointing. I did not see the movie so my opinion is based solely upon the reading. I did use this novel to show some students how the storyline changes based upon the writer's audience. The original story came from a Philadelphia journal article written in 1825 by a lawyer. While Hugh Glass did exist, and was mauled by a bear and left for dead in 1823, the tale has never been told without some fictionalization. The book by Punke is very different from the first account of the story, and the hollywoodized adaptation found in the movie is very different from Punke's version. It made for a good teaching moment, but I didn't find the novel to be a compelling read.
The Weird Sisters was an interesting read, but not nearly as interesting as the title suggests.
Two novels by Daniel Woodrell, Tomato Red and The Maid's Version, made it on to my reading list, in part, because his stories take place in the Ozark Mountains. Each time I read one of his works, I become more and more grateful that I did not grow up in the area he mines as his writing muse. I like how he juxtaposes the beauty of the region with the ugly actions of the people who populated it then and now. It's harsh and lovely at the same time.
I rarely (if ever) read romance, but when I do I turn to Jude Devereaux. Within a few chapters, her novel, The Summerhouse, struck me as more chick lit than romance. I enjoyed the concept of "What if I had it to do all over again?", and the way she handled the braided storyline of three women who share the same birthday, and met for a single day in the past. Their long weekend together in the present touches base on regrets for lives not lived.

The Library at Mount Char started wonderfully, but left me wanting in the end.

A Head Full of Ghosts by Paul Tremblay was advertised as the book that frightened Stephen King. After reading it, I would like to think that Stephen King is made of sterner stuff. I didn't find it frightening--somewhat interesting, but definitely not frightening.
Lesann Berry proved to be an engaging writer. Her novel, A Scattering of Bones, was well-written and sent me to the dictionary a few times. I will probably watch for another release from her to see if she can maintain the same quality of writing throughout this series. So far, I'm impressed.

Freud's Sister only solidified my belief that Freud was in desperate need of a therapist.
Can't Wait to Get to Heaven by Fanny Flagg was reminiscent of It's a Wonderful Life, and made for a pleasant and reaffirming read.
I found Harry Potter and the Cursed Child by J.K. Rowling to be an okay read despite the moans and groans from her Harry Potter fan base about the stage play script formatting. I'm beginning to wonder if Rowling will ever be able to write anything outside the Potter series or in any other style with success--not due to a lack of talent, but rather a lack of tolerance by her diehard Potter fans.
The Twenty-Seventh City, the first novel written by Jonathan Franzen, was more attention grabbing for its location rather than for the plot or characterization.

Last on the list is The Little Paris Bookshop by Nina George. I read this book based on the reviews it received from Amazon readers. At first, I couldn't get into the story. I'd read a few paragraphs, then put it down, and wander off. I had to force myself back to it on multiple occasions. I couldn't believe that so many people could have been that wrong about it. What did they read or see in it that I didn't? It wasn't until nearly two thirds of the way through that the story finally clicked for me. At that point, I couldn't put it down.

If you read any of the works on my 2016 Reading List, I would love to hear from you. What was your take on these novels? Will we agree or disagree?

Until then.

Below you'll find the review I posted on both
Goodreads
and
Amazon
for Mr. Penumbra's 24-Hour Bookstore.
Love, love, LOVE this book! I've
tweeted
, Facebooked, emailed,
blogged
, and reviewed this book. If I do anything more, author
Robin Sloan
is going to have to put me on the payroll!
I rarely get this excited about a book, but Mr. Penumbra's really resonated with the bibliophile in me. This debut novel abounds with quirky, intelligent characters on a quest. I truly adored Ms. Lapin! How could I not? She is me and I am her.
Rarely do technology and literature met and mesh. Just think about
the ongoing debate over e-books
. However, if technology and literature had a love child, this would be it. Even the cover glows in the dark!
From first to final page, the reader becomes part of a journey that he/she may not always understand (I'm not that technologically advanced.), but is always willing to follow. There are parts that are more bookish and in those sections, I felt like I was leading, guiding the others along the way. From Google headquarters to age-old libraries, Sloan blends the old with the new, and makes it work.
The truth he reveals/exposes is one you may have heard and forgotten. If it's your first time to see it, then enjoy and drink deeply of it.
I HIGHLY recommend this book to anyone who loves books, reading, technology, architecture, mystery, secret societies, libraries, independent book stores, gaming, and magic realism. Did I leave anyone out? In other words, this book is for everyone.
Buy it, read it, enjoy it, sleep with it under your pillow to inspire good dreams.

I love when I get the opportunity to discover new talent. Okay, maybe I didn't discover them, but I did just recently find them.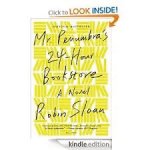 Mr. Penumbra's is a book lover's dream, a bibliophile's paradise. It references other books, drops hints and clues to an even greater book loving group while incorporating quirky characters (I
am
Ms. Lapin.), the Google campus, art, bookstores, and a quest. How can anything get any better than that? Don't just take my word for it, check out the
reviews and comments on Good Reads
. The book also glows in the dark! There's
nothing
I don't like about this book!
I would highly recommend this book to anyone who loves books or loves reading books (and yes, there is a difference).

I personally love books on so many levels. From reading to the way they are made, the quality of paper, the illustrations, type setting, the endpapers, and so much more.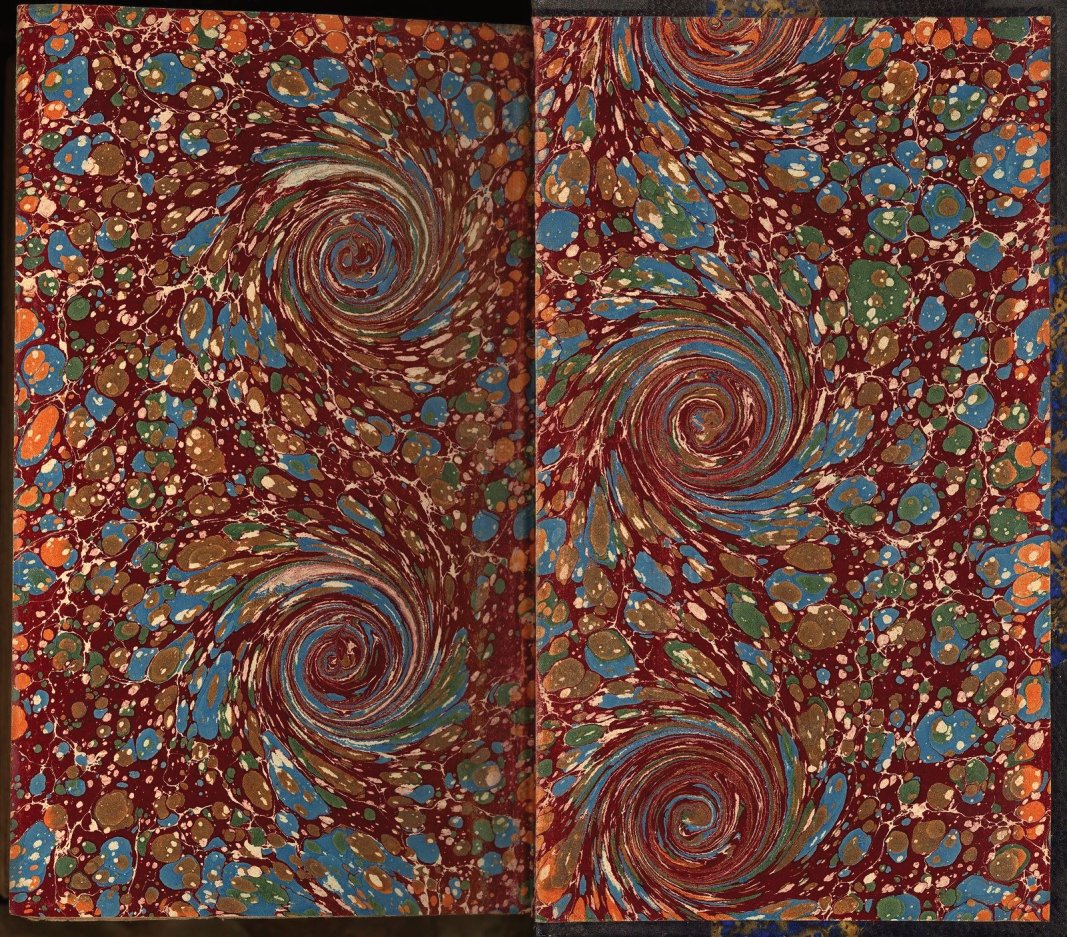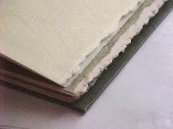 orgasmic--almost!

























I love to hold a used, but well-loved book in my hands and imagine all the other hands who've held it before me, all the other eyes that have read the words, the fingers that have traced a particularly intriguing line. A book with a well-broken in spine shows the love given it when it was first purchased. A book losing its pages shows me that it wasn't taken care of properly by someone who either didn't know or (dare I think it?) didn't care.




What was your favorite book of 2013?





P.S. I have another previously undiscovered talent that I hope to bring to you in 2014. This one is totally my discovery, and doesn't have to do with books, but will captivate and fascinate you in addition to leaving you in awe of his talent.




Torture, isn't it?


































0

/