Shopping Cart
Your Cart is Empty
There was an error with PayPal
Click here to try again
Thank you for your business!
You should be receiving an order confirmation from Paypal shortly.
Exit Shopping Cart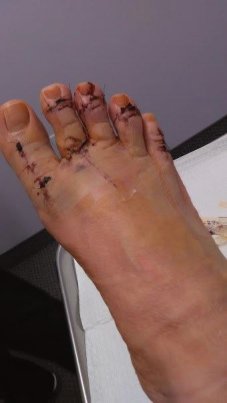 In April, I had foot surgery and was confined to my bed for two weeks.

During that time, my writing went into full swing, and for fourteen days I was more productive than I've been in well over a year.
(Since the night my flash drive died.)
                                                                                                                                                              Meet Frankenfoot
Even after my bed rest period was up, I continued to write and within four weeks I had written 25,000 words!

25,000

words

That may not seem like much to
NaNo
people who write 50 to 60,000 words in the same time frame, but for me I set a personal record.



















Yesterday, I printed out those 104 pages to read through and organize. 

Rather than write linearly (from beginning to end), I skipped around and wrote scenes that piqued my interest.  Some characters are well-developed, while others are sketchy outlines.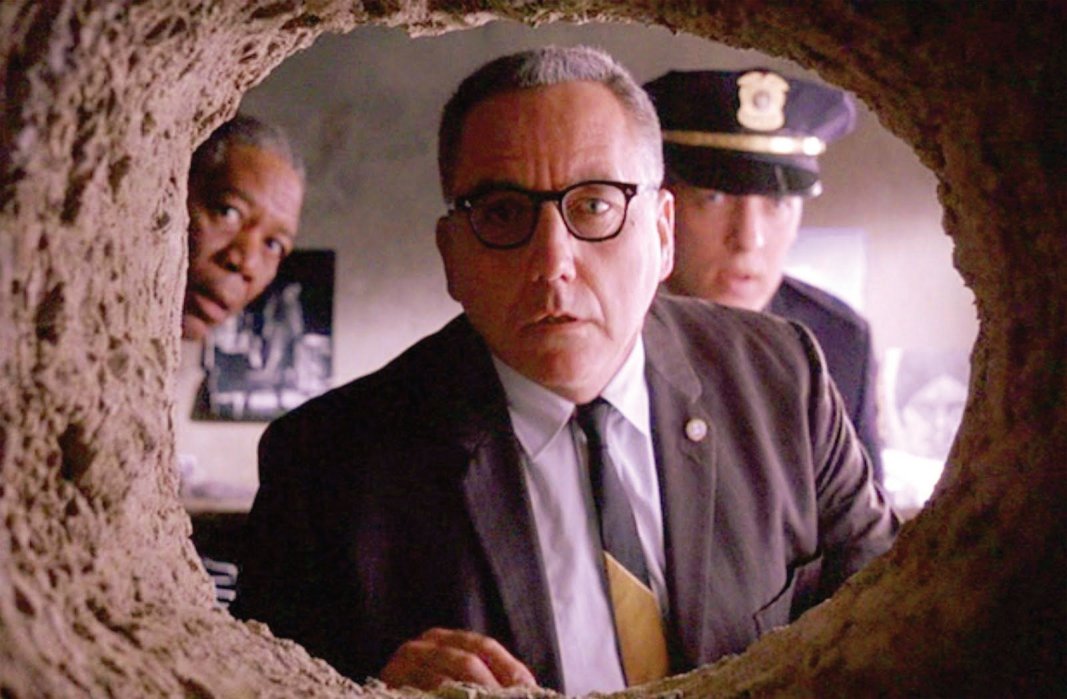 My next step is to put these scenes in a linear sequence, and figure out the gaps. Once I know what's missing in terms of plot, I will fill in the
plot holes
. This method should also allow me to see which characters have been neglected and need further development.
I've never written this way before, but it seems a lot faster and more productive. This is actually my fourth novel, but only one of them is finished. In the past, I wrote from beginning to end, but would stop when I got bogged down on a particular scene. I was writing like a champ on my third novel,
Spared Parts
, until I reached a scene that takes place in the Beijing airport. That's when inspiration flew out the window.
I've never been to China and I floundered. My cousin was living there at the time and graciously offered to help me with the details. However, since she was not supposed to have
email while in China
, I didn't want to be the reason she ended up in a Chinese prison. (She's far too cute for that!)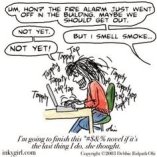 In the next two weeks, I hope to make a list of what I'm missing and then prepare for another writing frenzy.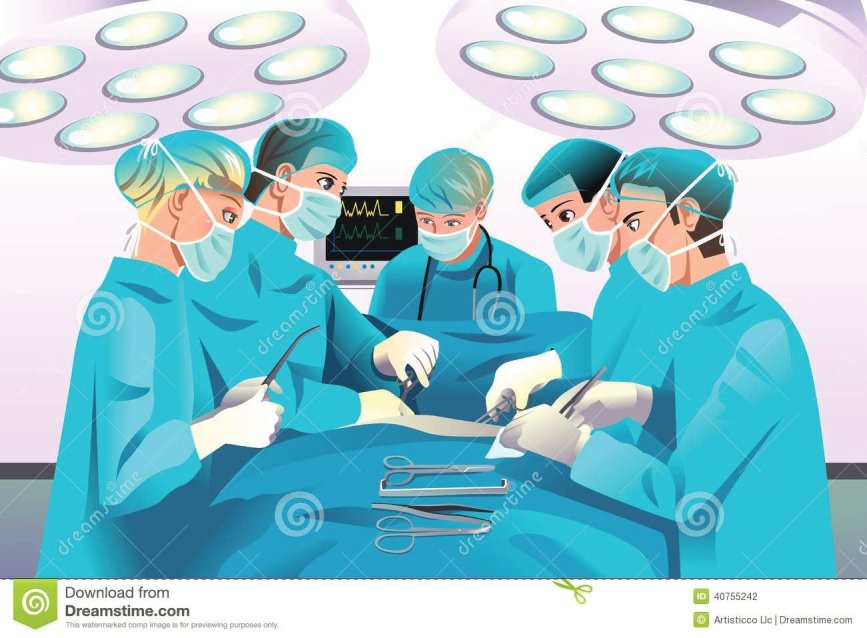 I have another foot surgery scheduled for late July, so my plan is to make good use of my bed rest time. 
Wish me luck, and I'll keep you posted.
Below you'll find the review I posted on both
Goodreads
and
Amazon
for Mr. Penumbra's 24-Hour Bookstore.
Love, love, LOVE this book! I've
tweeted
, Facebooked, emailed,
blogged
, and reviewed this book. If I do anything more, author
Robin Sloan
is going to have to put me on the payroll!
I rarely get this excited about a book, but Mr. Penumbra's really resonated with the bibliophile in me. This debut novel abounds with quirky, intelligent characters on a quest. I truly adored Ms. Lapin! How could I not? She is me and I am her.
Rarely do technology and literature met and mesh. Just think about
the ongoing debate over e-books
. However, if technology and literature had a love child, this would be it. Even the cover glows in the dark!
From first to final page, the reader becomes part of a journey that he/she may not always understand (I'm not that technologically advanced.), but is always willing to follow. There are parts that are more bookish and in those sections, I felt like I was leading, guiding the others along the way. From Google headquarters to age-old libraries, Sloan blends the old with the new, and makes it work.
The truth he reveals/exposes is one you may have heard and forgotten. If it's your first time to see it, then enjoy and drink deeply of it.
I HIGHLY recommend this book to anyone who loves books, reading, technology, architecture, mystery, secret societies, libraries, independent book stores, gaming, and magic realism. Did I leave anyone out? In other words, this book is for everyone.
Buy it, read it, enjoy it, sleep with it under your pillow to inspire good dreams.

I love when I get the opportunity to discover new talent. Okay, maybe I didn't discover them, but I did just recently find them.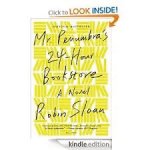 Mr. Penumbra's is a book lover's dream, a bibliophile's paradise. It references other books, drops hints and clues to an even greater book loving group while incorporating quirky characters (I
am
Ms. Lapin.), the Google campus, art, bookstores, and a quest. How can anything get any better than that? Don't just take my word for it, check out the
reviews and comments on Good Reads
. The book also glows in the dark! There's
nothing
I don't like about this book!
I would highly recommend this book to anyone who loves books or loves reading books (and yes, there is a difference).

I personally love books on so many levels. From reading to the way they are made, the quality of paper, the illustrations, type setting, the endpapers, and so much more.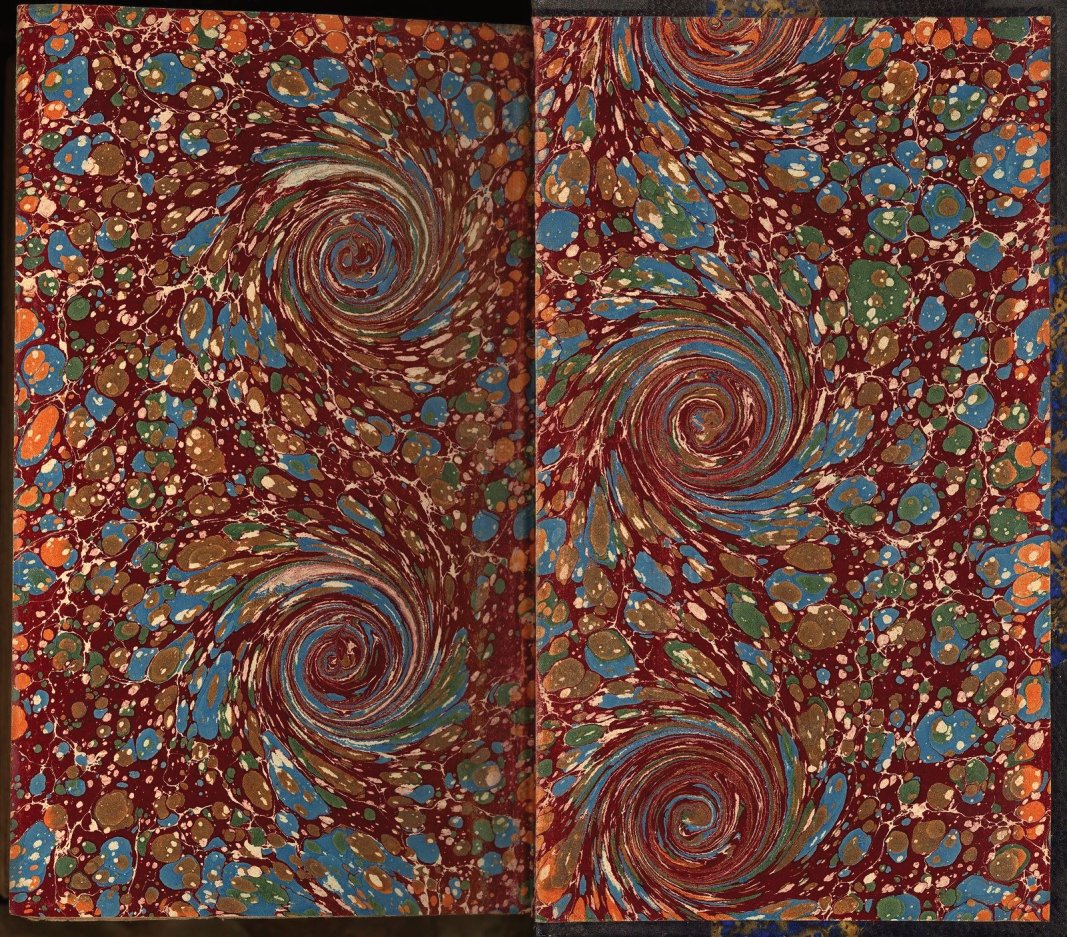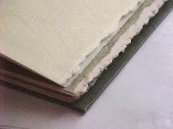 orgasmic--almost!
I love to hold a used, but well-loved book in my hands and imagine all the other hands who've held it before me, all the other eyes that have read the words, the fingers that have traced a particularly intriguing line. A book with a well-broken in spine shows the love given it when it was first purchased. A book losing its pages shows me that it wasn't taken care of properly by someone who either didn't know or (dare I think it?) didn't care.
What was your favorite book of 2013?

P.S. I have another previously undiscovered talent that I hope to bring to you in 2014. This one is totally my discovery, and doesn't have to do with books, but will captivate and fascinate you in addition to leaving you in awe of his talent.
Torture, isn't it?
I follow
Nathan Bransford's blog
and have for several years. He's an ex literary agent turned author, and all around informative guy with a huge and active following.
Over the years, he has ranted and raved over his favorite book,
The Great Gatsby
. He, on occasion, includes quotes from the book which have never impressed me, and I didn't quite understand the appeal. I figured it was just a case of personal taste.
Last week, I picked up a copy of
Gatsby
at
Goodwill
(one of my all-time favorite bookstores). At fifty cents, I didn't think I could go wrong even if I hated it and ended up donating it back.
I started reading it the same evening and much to my surprise I loved it! I didn't put it down until the wee hours of the morning when I finished!
I want to apologize to Nathan for doubting his taste. It's a great story, beautifully written, with layer upon layer of social commentary and observations of human nature. It's a love story, a story of obsession, gain, and loss, and ultimately, what is truly important in life.

Below is my apology to Nathan which I sent to his blog.

Dear Nathan,
I want to formally apologize to you for ever doubting your taste in books.
I've followed your blog for years and have always questioned your belief that The Great Gatsby is a fantastic novel. Even when I read the various Gatsby quotes you've posted, I was unmoved.
I recently picked up a copy, and I must admit that I've been wrong. While I won't say that it's my favorite book, it is in the top 10. I read it through in one night, unable to put it down.
I'm also posting a link to this apology on my website so my followers can see me eat humble pie.
Sincerely and apologetically,
Tammy Setzer Denton
I think it's important to admit when you're wrong, and in this case, I certainly was. The takeaway from this is not to limit yourself with
preconceived notions
. I missed out for years because I was wrong. Don't let the same happen to you, and guess what? It doesn't just apply to books. Now, I have to re-evaluate all the things I've avoided over the years for a variety of reasons. It may be just the day/week/month/year to give them a try!
Let me know what you've been avoiding.

I've been staying so busy with freelancing that I've not had time to do much fiction writing for myself. How will I ever finish that first draft of my second novel,
Spared Parts
?
Today, I tried a technique called the
Pomodoro Technique
. I know it sounds like I'm making spaghetti sauce, but it's for writing, and guess what? It worked!
I had to do this while babysitting four grandchildren, ages 14, 10, 4, and 10 months. The baby was asleep, but the other three were wide awake, bouncing off the walls like pinballs,  and tormenting one another. I set the timer for 25 minutes and hoped that SpongeBob would hold their attention. It did--sort of, and I was able to work--sort of. Not an ideal situation, but a person has to work with what she has.
The startling thing was that I couldn't even remember where I was in
Spared Parts.
I picked a random starting point and worked on it for 25 minutes. After a rocky start, the words started flowing. Nothing masterful, but words on paper which is much more than I've been able to do in months. Despite a couple of interruptions, I was able to write a page and a half.
A page and a half in 25 minutes isn't much, but it's 100% more than I've done in months. I think with practice the
Pomodoro Technique
might do the trick. I'm setting my timer for 25 minutes tomorrow as well. I'm not babysitting, but will have my freelance writing to contend with. Setting aside 25 minutes a day for pure creativity is something I think I can do.
I'll keep you posted.
Just checking blog stats and see that my top location for this past week is SUNNYVALE, CA.

I love Sunnyvale, having spent some teenage summers there. I enjoyed working and playing there, escaping the Midwest heat and the parents!
Big Thanks to all those in Sunnyvale who've been checking out my blog and website.

Tammy

Event for
June 04, 2013    12:18AM
June 23, 2013    11:59PM
Global
Lesann's book, ALTERNATE ENDINGS, is featured at Story Cartel this month. You can download this book for FREE. Read this collection of speculative fiction short stories in exchange for an honest review. Available in multiple formats-so tell a friend and check out some alternative history!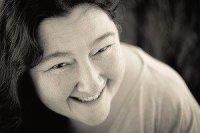 Also check out

It will be weird. You've been warned.

Barbara Poelle
with the
Irene Goodman Agency
did a guest column at
Writer's Digest
on April 4, 2013.
The column titled:
is possibly the funniest agent interview ever.  I've re-posted a portion of the column, and you can read the entire article
here
.
Once you've read all of it, you can check out my comments
here
.
Trust me, you're going to love this.

Dear Agent:  What do you really think of speed-pitching events at conferences? Do you secretly hate them? And how many of your new authors do you find at writing conferences, versus the slush pile, versus other methods?



Well, let's see. Here are some things that have happened to me at speed-dating-style pitch sessions:




• After I said I would not be interested in looking at a man's poetry collection, he said he would kill himself—and the police had to be called.




•  An octogenarian and his wife pitched his mystery and she mouthed his memorized pitch next to him the whole time he talked, and then clapped and cried when he was done—and I had to sit there knowing from the start that a 42,000-word World War II mystery (which is far too short to be viable, for starters) was something I was for sure about to say no to. To this octogenarian's life dream. In front of his lifelong soul mate. Thank goodness the bar was within sprinting distance.




• A woman sat down across from me and opened with, "Jesus already told me you would be my agent, so I'm not nervous at all." I said, "That's weird, when we had coffee the other day, he didn't mention you." And then I chuckled. She did not. And then my bladder loosened a bit in fear.




In the end, I very much like talking to authors at conferences, but I wouldn't buy a car from a guy who just tells me about it; I need to see how she rides. So these days, when I'm invited to participate in pitch sessions at writing events I attend, I decline, but instead offer to take a look, in advance, at 10 pages of the manuscript from each author who wished to pitch me, and to leave a detailed critique for each one at the registration desk. I realize not every agent (maybe not any other agent) favors this approach, but in my case, I feel that this is more helpful for the writers, and better suited for my evaluation style, too. If I want to meet with someone, I leave a note and we connect.





Other than that, I am totally fine with someone coming up to me anywhere, anytime, and telling me about his book, but not in organized pitch sessions. It's just too much pressure on the authors. And my bladder.




Oh: And as for my own stats, before adopting this policy, I signed five clients (and sold four of their books to publishers) in five years' worth of pitch sessions. So, while connecting at those events does happen, that's not a huge percentage of my list. Again, that's not the case for every agent, but for me, the majority of my clients still find me through the regular query inbox.




Fifty Shades Trilogy




Okay, I promise this is the last one. How can I resist a review that uses such colorful phrases?




Examples:


stench trench,

fecal bombs from a fighter jet,

more mood swings than a menopausal schizophrenic on meth,

and my personal favorite,


magical panty hamster.




Magical panty hamster! Makes me want to run out and get one.  





What????? I already have one!





Maybe, I should read those books after all.





NOT!
















Fifty Shades Freed




Katrina Passick Lumsden is my new hero. I'm almost sorry that there are only three novels in this series.  Once again, I must share.





Here

it is. Enjoy. Laugh. Cringe.

0

/