Shopping Cart
Your Cart is Empty
There was an error with PayPal
Click here to try again
Thank you for your business!
You should be receiving an order confirmation from Paypal shortly.
Exit Shopping Cart
One of my short stories. "Kingdom of One" will be published in the October issue (#28) of The Caribbean Writer.
The Caribbean Writer (TCW
)--The Literary Gem of the Caribbean-- is an international, refereed, literary journal with a Caribbean focus, founded in 1986 and published annually by the University of the Virgin Islands.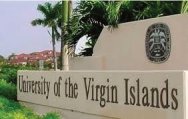 The 2014 edition of The Caribbean Writer, Volume 28, highlights Time, Place, and Memories, so "Kingdom of One" was a good fit.
I hope everyone who reads it will enjoy or at least, appreciate the story. Like most of my work, it's dark and leaves the reader questioning the distinction between right and wrong.

I can't wait to see what it look like in print! You can order a copy of Issue #28
here
. I hope that any and every one who reads it will send me some feedback. I would really like to hear your thoughts on it.
As an unexpected bonus, its publication in the journal puts me in the running for a literary award. It will be a year before the 2014 award winners are announced, but wouldn't it be great to get an award from a university located on one of my favorite islands?


Who wouldn't want to be here? I have fond memories of vacationing in St. Croix with my son when he was a child. We had such adventures there!
My next topic has to do with critiques. I take part in several critique groups and at times, I've walked away from them feeling as if I'm not getting serious feedback. Other times, I've come away feeling guilty that I've perhaps been too harsh with my comments.

Without construction, honest criticism, I don't see how my writing can get any better. How will I improve? Maybe, others aren't at the critiques to improve, but rather to have their works lauded. If that's the case, it's a game I don't play well.  I'm honest. Brutally honest. If that means saying, this piece needs a lot of work and here are some examples of what is wrong and some suggestions on how to make it better, then that's what I say.
Fortunately, I'm not the only one who believes this kind of honesty is the best policy. A writer whose work I admire and whose critiques I take to heart,
Harve
y Stanbrough
, has generously allowed me to lift a paragraph from one of his blog posts. Here goes:
Social Graces — Yeah, well, okay, I just don't have 'em, I guess. I keep getting emails telling me I should be more gentle with my criticism when other writers ask me to critique their work. Sorry, but I'm just not that guy. When someone tells you only what you want to hear, maybe on the surface it makes you feel good but you learn NOTHING. What's worse, you never know whether that person is telling you the truth about anything. What you get from me — but only if you ask — is the plain, unvarnished truth, good or bad. When I tell you something could be better, I'll try to explain how to fix it. Maybe best of all, when I pay your work a compliment, you'll know I mean it. The professional (or the aspirant who will become a professional) gladly suffers criticism in order to grow in the craft. The aspirant who would rather hear unearned praise than be afforded an opportunity to grow will never be a professional. It really is as simple as that.
On a personal note, I got to spend some time in Mexico this summer. I always have a great time when I'm there and this time was no exception. I got to experience my first deep sea fishing trip and came home a winner as you can see below.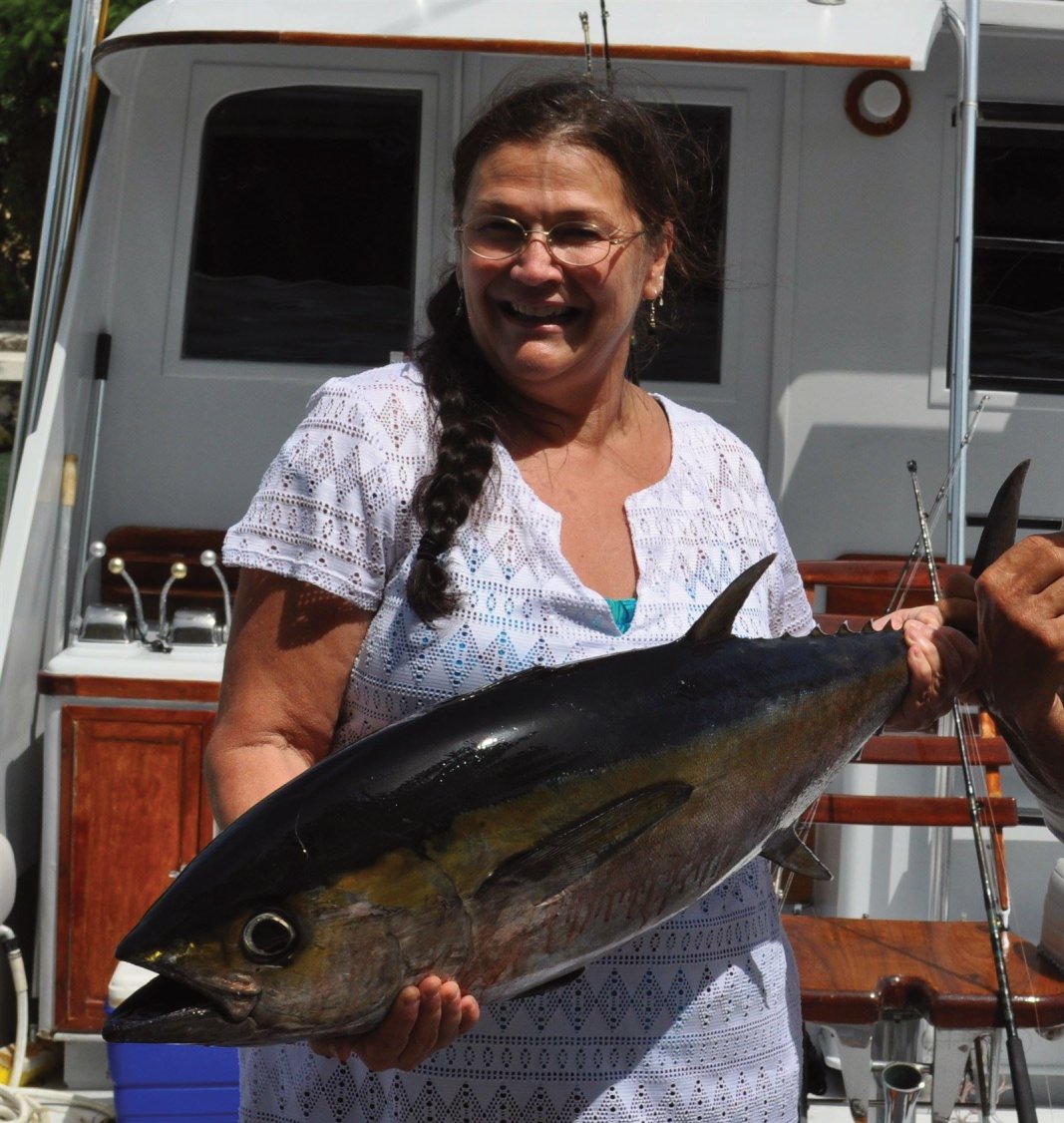 My catch-of-the-day was a 25 pound black fin tuna! Not bad for my first time.

Mundo cut it into steaks.                         The Chef cooked it for me!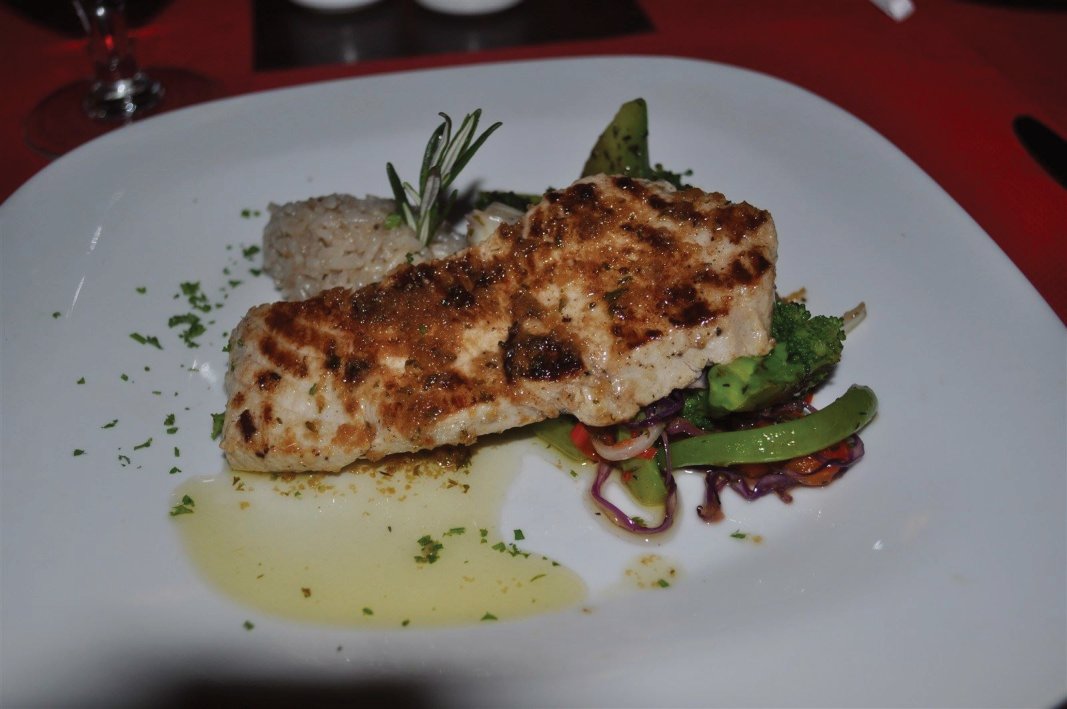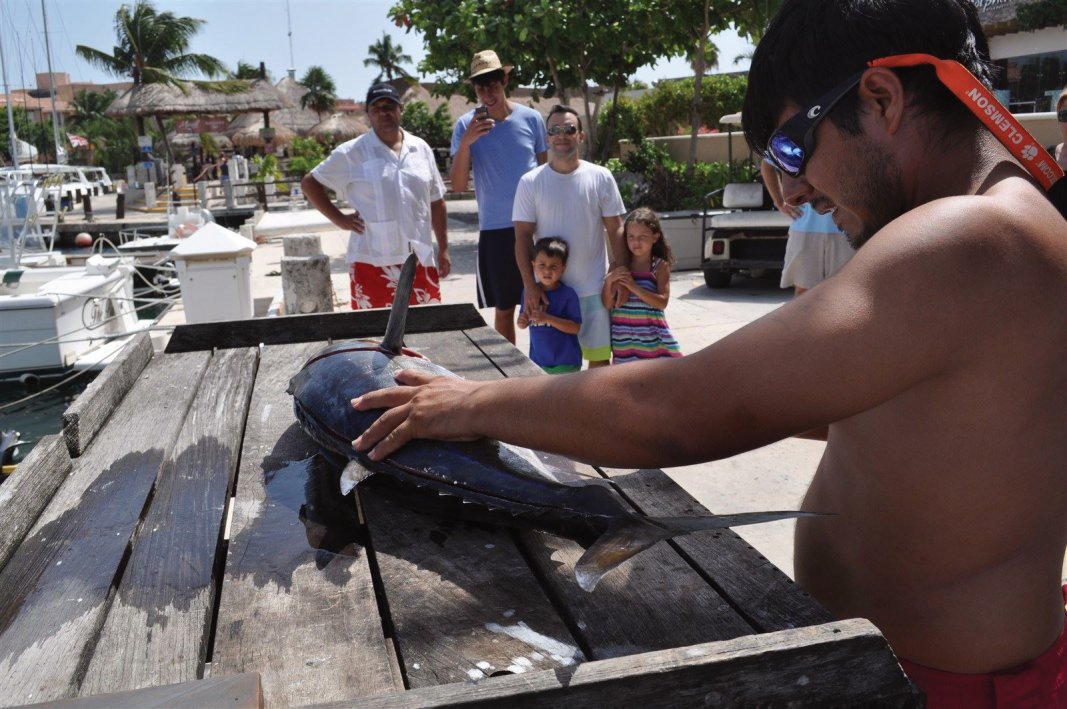 I also got the opportunity to swim with the dolphins. It's something that's been on my bucket list for several years, but just couldn't seem to make it work until now.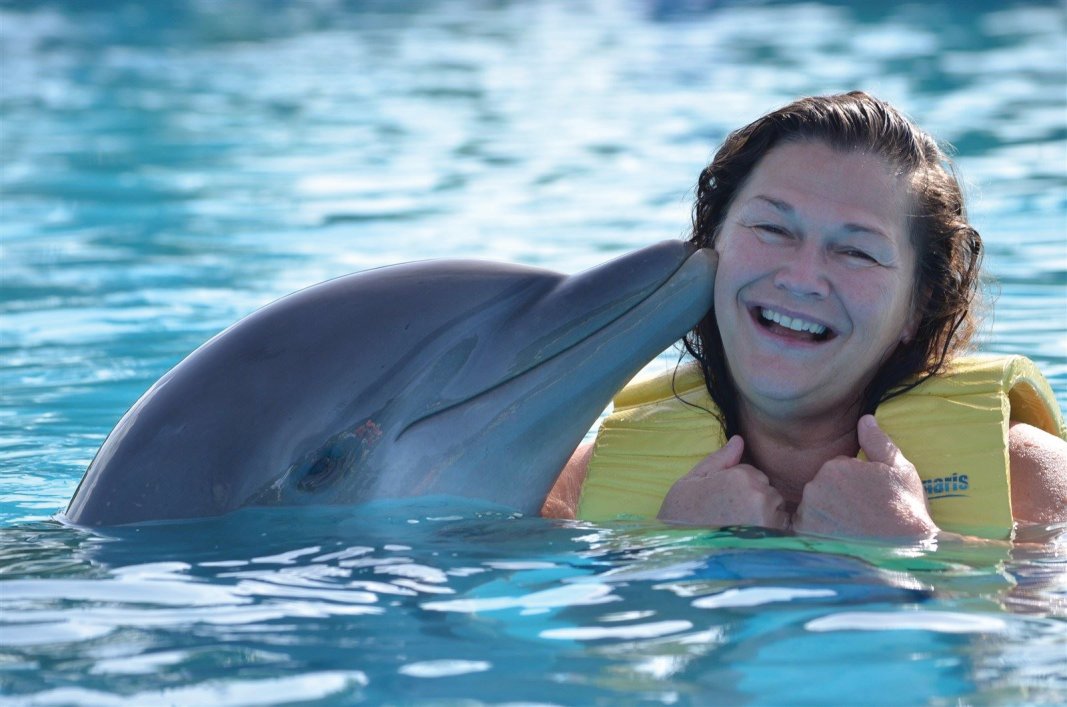 Me and Nautica. 
I strongly encourage you to swim with a dolphin if you ever get the chance. It was AMAZING!

On a final note, I'm off to see Gone Girl with my daughter. We've both read the book and are curious as to how well the movie is done.

It's been a crazy, hectic, chaotic last four months, but it's finally starting to slow down. My son has regained the feeling in his nearly severed fingers, my daughter is married, a brother has recovered from open heart surgery, a brother-in-law is learning to carry on with a few less toes than before, and I'm enjoying my new teaching position.

With a little less on the horizon in regard to family events (although the majority of recent ones were not planned), I hope to spend more time on writing. In fact, I  wrote today! Six pages of a short story that may or may not even have a purpose other than to make me feel better about getting some creative writing done.

I've been doing a lot of writing over the last three or four months, but none of it has been creative. Between writing tests, creating activities, freelance jobs, reports, query letters, and synopses, I have a high word count, but none of it came from the heart (except for maybe creating learning activities-I did enjoy that!)
Last week, I sent out three query letters, researched the 2014 Missouri Writer's Conference which I plan to attend, and received notice that I had been shortlisted for the 2013 Small Axe Literary Competition. While I didn't win, I was in the running for a while. I consider it quite an honor to be in consideration. It's also a sign that my writing is getting better.
Another sign of improvement is that I was going through some old flash drives and found a few short story starts that sputters to a stop for one reason or another. Many of them, I didn't even remember. Yet, one stood apart from the others. In fact, I admired it so much that I figured I must have copied it from somewhere as a source of inspiration. The choice of wording was spot on, the verbs powerful, and the promise of an intriguing story lay in a few short paragraphs. Impressive. In fact, so impressive that I was certain it came from someone else!
In an effort not to plagiarize and a desire to find out more of the story behind this sampling of paragraphs, I googled it. Nothing. I binged it. Still nothing. I tried a few other search engines which returned zero results before it finally hit me. I did write these paragraphs. I did this.
I always thought it was better to impress someone else (preferably an agent or publisher) with my writing skills, but I have to say I think I might like impressing myself even better. Of course impressing myself doesn't mean I'm any closer to being traditionally published than I was a year or two or three ago, but I do think it means that I won't be ashamed of my work when publication does occur.
In the meantime, I'll keep plugging away, learning more about the craft, writing daily, and submitting.  You do the same.

Here's a few links to check out:
And last, but not least, one photo of the bride. You can forgive me later.
;

Last night, I finished my freelance articles for June with three hours to spare. I wrote 10,000 words for other people and only 350 words for me.  However, they were 350 words of pure pleasure, and freelancing pays the bills so I can afford to write.
I will continue to use the
Pomodoro Technique
which I wrote about in my last post. Setting aside a specific amount of time and writing against the clock/alarm/timer seems to work for me.  The hardest part was remembering where I had left off in my second novel,
Spared Parts
. I will be rereading what I have and checking my notes to refresh my memory. Another bonus is that my China connection is back in the US so I can pick her brain.
On a completely unrelated note, I'm putting my house up for sale and will hopefully move into a condo no later than early fall. It's an emotional roller coaster as I've lived in my home for 28 years. I love it, my neighbors, and my neighborhood, but the outside maintenance is killing me and stealing my creative time.
Moving will be another short-term factor that will take away from my writing, but it will not last forever (although I'm sure it will seem that way).  Anyone with moving tips, send them my way. I think I've forgotten all that I knew about the process.
I would also like to encourage readers to check out
Alternate Endings
by
Lesann Berry
. If you're into sci-fi and like the style of Ray Bradbury, many of her short stories in this anthology really reminded me of his work. It's available at
Amazon
.
P.S. I have no idea why some words are highlighted and underlined in red. It's a glitch.

Event for
June 04, 2013    12:18AM
June 23, 2013    11:59PM
Global
Lesann's book, ALTERNATE ENDINGS, is featured at Story Cartel this month. You can download this book for FREE. Read this collection of speculative fiction short stories in exchange for an honest review. Available in multiple formats-so tell a friend and check out some alternative history!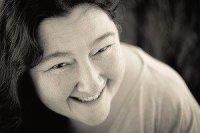 Also check out

It will be weird. You've been warned.

Fifty Shades Trilogy
Okay, I promise this is the last one. How can I resist a review that uses such colorful phrases?
Examples:

stench trench,
fecal bombs from a fighter jet,
more mood swings than a menopausal schizophrenic on meth,
and my personal favorite,

magical panty hamster.
Magical panty hamster! Makes me want to run out and get one.  

What????? I already have one!

Maybe, I should read those books after all.

NOT!
Fifty Shades Freed
Katrina Passick Lumsden is my new hero. I'm almost sorry that there are only three novels in this series.  Once again, I must share.

Here
it is. Enjoy. Laugh. Cringe.
Fifty Shades Darker

No, I didn't read this one either.How could I? Without having read the first book of the trilogy, how would I ever know what was going on?

Based on this review, I think I dodged a bullet. 
Thank you to Katrina Passick Lumsden for her outstanding and hilarious reviews.

Lesann Berry
is a gifted writer with a sense of the macabre. In other words, she writes exactly what I like to read! She takes a normal, everyday event and gives it a dark twist in such a way that you'll never look at it in the same way again.
She recently released a Kindle edition of her latest works.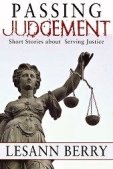 Passing Judgement
is a compact collection of short stories about justice delivered in ways that go beyond the law. There are just some crimes that need a punishment beyond jail time. This collection addresses those crimes.
If you don't believe me then read what actress/writer/instructor,
Thea Constantine
, has to say:
Lesann has created such an unusually rich crop of tales here. She's equally adept at speaking in the tongue of an escaped slave and Voodoo Queen as she is when she's exploring a Russian Mafia princess. These are tales to curl up with by the fire- but don't be surprised if you go to bed with all the lights on.

If you're looking for a good read, check out Passing Judgement, available at:
Amazon.com
My writer friend, Al, has a short story being featured at Every Day Fiction. The title is The Gulf. It will be the story of the day for Thursday, February 7th.

If you can't get to the
Every Day Fiction
website on that day, you can still read it by going through their website or googling: "Every Day Fiction, The Gulf".
I really enjoyed this story. It's amazing at how much can be said in 1000 words or less. Perhaps, what is more amazing is what is not said. You'll understand when you read it.
He thinks quite highly of her talent as do I, but I don't have quite the same clout he does. Apparently, many many others enjoy her work as well as Hearse and Buggy is already in its second printing run in only 4 days!
Laura also writes stand-alone romances for Harlequin American Romance under the name of Laura Bradford.  Her 4th book with Harlequin will be available in October 2012.
Many of her books are available in paperback and e-book formats.
Needless to say, Laura is one busy person. However, she always makes a point to visit with her St. Charles friends.  This time she spoke and did a book signing  at both the Kirkwood Public Library in Kirkwood and the McClay Library Branch in St. Charles on Thursday, June 7.
Her fan base continues to grow and her readers get younger and younger.
/