Shopping Cart
Your Cart is Empty
There was an error with PayPal
Click here to try again
Thank you for your business!
You should be receiving an order confirmation from Paypal shortly.
Exit Shopping Cart
It's been a crazy, hectic, chaotic last four months, but it's finally starting to slow down. My son has regained the feeling in his nearly severed fingers, my daughter is married, a brother has recovered from open heart surgery, a brother-in-law is learning to carry on with a few less toes than before, and I'm enjoying my new teaching position.

With a little less on the horizon in regard to family events (although the majority of recent ones were not planned), I hope to spend more time on writing. In fact, I  wrote today! Six pages of a short story that may or may not even have a purpose other than to make me feel better about getting some creative writing done.

I've been doing a lot of writing over the last three or four months, but none of it has been creative. Between writing tests, creating activities, freelance jobs, reports, query letters, and synopses, I have a high word count, but none of it came from the heart (except for maybe creating learning activities-I did enjoy that!)
Last week, I sent out three query letters, researched the 2014 Missouri Writer's Conference which I plan to attend, and received notice that I had been shortlisted for the 2013 Small Axe Literary Competition. While I didn't win, I was in the running for a while. I consider it quite an honor to be in consideration. It's also a sign that my writing is getting better.
Another sign of improvement is that I was going through some old flash drives and found a few short story starts that sputters to a stop for one reason or another. Many of them, I didn't even remember. Yet, one stood apart from the others. In fact, I admired it so much that I figured I must have copied it from somewhere as a source of inspiration. The choice of wording was spot on, the verbs powerful, and the promise of an intriguing story lay in a few short paragraphs. Impressive. In fact, so impressive that I was certain it came from someone else!
In an effort not to plagiarize and a desire to find out more of the story behind this sampling of paragraphs, I googled it. Nothing. I binged it. Still nothing. I tried a few other search engines which returned zero results before it finally hit me. I did write these paragraphs. I did this.
I always thought it was better to impress someone else (preferably an agent or publisher) with my writing skills, but I have to say I think I might like impressing myself even better. Of course impressing myself doesn't mean I'm any closer to being traditionally published than I was a year or two or three ago, but I do think it means that I won't be ashamed of my work when publication does occur.
In the meantime, I'll keep plugging away, learning more about the craft, writing daily, and submitting.  You do the same.

Here's a few links to check out:
And last, but not least, one photo of the bride. You can forgive me later.
;

Just a quick note. I found a site run by
Cascade Writers
that explains a great critique method to use in your writing groups.
Starting a writers group is easy:
1) Find a group of people who want to improve their writing.
2) Set up a time and place to meet.
3) Then what...?
I would recommend using this technique to start the critiques.

Once you've established a routine and these guidelines, you can tweak them to better fit your group.
I really like the way Cascade Writers leads us step-by-step through the Milford Style. They not only tell you how to give a good critique, but also how to accept one without falling to pieces. And, Bonus! After giving and receiving all this good information, they also tell you what to do with it once the feedback soaks in.
Great news! Last week we got the old writing gang together for lunch. While enjoying a meal at Bandana's BBQ, each of us expressed an interest in getting together for a critique group. Unfortunately, none of our schedules mesh.

Rather than give up, we've decided to try it via email. Each of us will send five to ten pages of a current work to the others. As each of us find time, we will read the work and write up our critique, suggestions, and comments about the writing in an effort for each of us to improve our writing skills.

Everything is done as "reply all" so that everyone knows what the others are saying and any points that need to be clarified can be.
Since we all write in different genres, we get a great cross section of the writing  world. So far, we've had a paranormal murder mystery and a mainstream novel with several unsettling aspects. Both are really good and I can't wait to read more. Next week, I'm anticipating an academic work from one of our writers.

I've been working on short stories, taking a break from my novel, Spared Parts. It's time to let that novel marinate and get some new eyes on these short stories.
This way we get feedback from people who are serious about writing and improving their skills. We still get to meet up for lunch when we can, and as always enjoy the company of future bestselling authors!

Get Your Write On!
Saturday Writers presents their 2012 Writing Workshop

To Writers of all genres and skill levels:
Saturday, October 27, 2012
9:30 am to 3:30pm
St. Peters City Hall

WEST ENTRANCE - Cultural Arts Center Entrance
1 St. Peters Centre Drive
St. Peters, Missouri 63376
Hands-on learning from two of the area's most qualified teachers of the craft!

Pitch your book to a publishing agent!
A Silent Auction! 
Contact Jennifer Hasheider at:
for questions
Tentative schedule for the day......
9:00    Sign in to the workshop, browse the wonderful items up for auction and find the perfect seat
co-founder, editor and publisher of Blank Slate Press, will briefly discuss the dos and don'ts of pitching to agents and editors. Schedule your 10 minute private pitch session with Kristy in advance.

10:15 Former newspaper reporter and Professor, Steve Wiegenstein leads a two-hour exercise in mainstream fiction, with genre fiction as an option. Polish up and learn new skills by generating ideas, writing, critiquing and sharing.

12:30 Lunch will be delivered by Manninos Deli of Cottleville. Order your 8 inch hoagie boxed lunch in advance and skip the hassle of running out for lunch or bringing your own lunch for the workshop!


1:00  Do you have a personal story to tell? Are you serious about writing? Learn the ABCs of writing authentic, brave, creative nonfiction. Linda O'Connell will discuss every aspect from the basics to the ethics of sharing your life story.

Linda will provide a list of publishing markets and small attendance prizes. She is also offering a door prize of one, free, ten page personal essay critique.
Register NOW to reserve your space!
Fees:
       Current Members before 10/15:            $25.00
       Non-Members before 10/15:                $30.00
       Everyone 10/15-10/27:                         $35.00
       Delivered Boxed Lunch:                        $6.00
       WritingWorkshop12 Tee shirt:              $10.00
       2013 SW Membership:                        $20.00
I hope to see some new faces when I attend!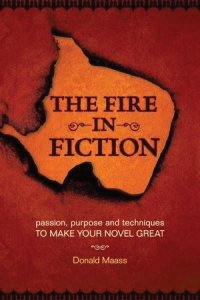 Fire In Fiction Workshop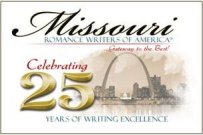 Since I don't write
romances, I was a little doubtful as to how I would be received. My doubts were quickly laid to rest and I was warmly welcomed.  The people of MOWRA are professionals who believe in working on and learning their craft, and they really know how to put on a workshop!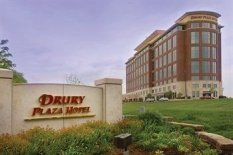 The location at the Drury Inn in Chesterfield was a great, centrally-located site. The ballroom was spacious, but not so large as to feel lost and have to squint to see Donald Maass. Acoustically, the microphone/sound system functioned well without that horrible screeching feedback that makes a person cringe. MOWRA supplied light snacks and plenty of beverages throughout the day. We were a well-hydrated and caffeinated group!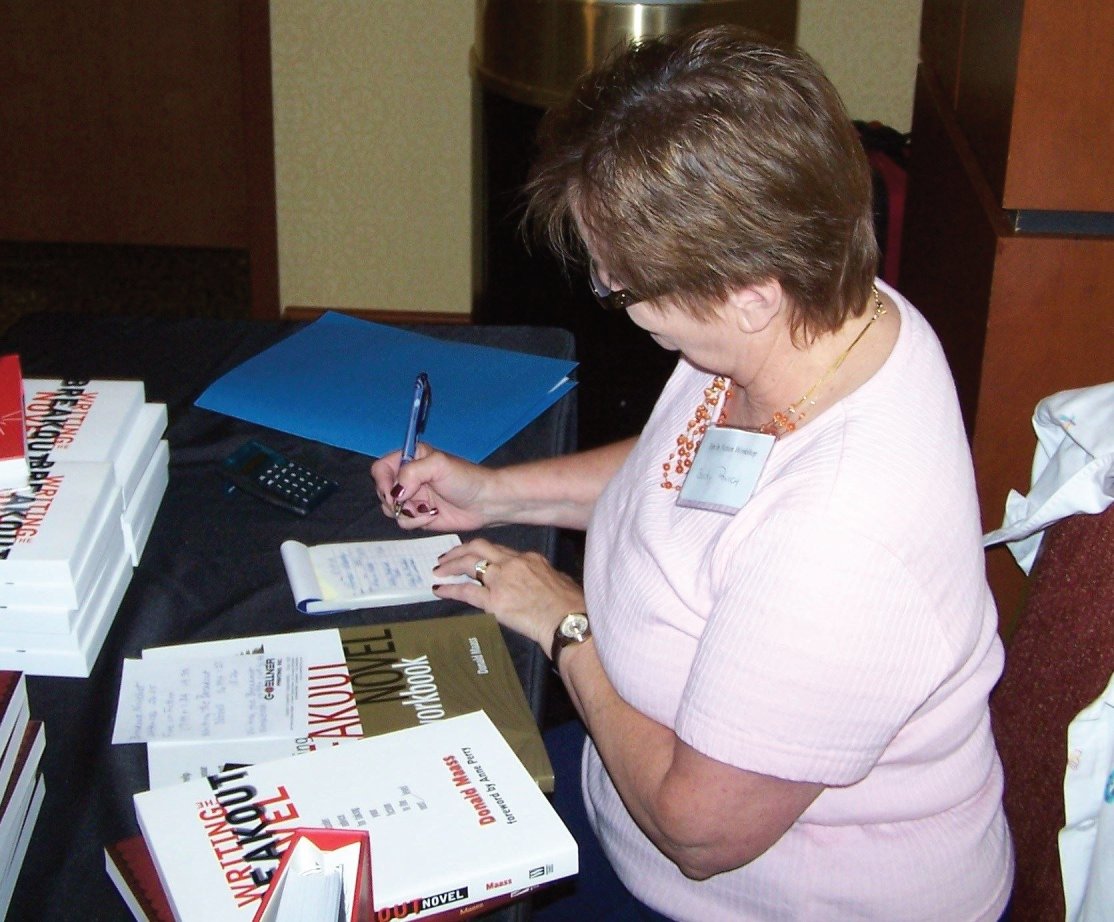 Main Street Books
of St. Charles, MO was the designated bookseller for the event. Their booth contained many of the writing help titles written by Donald Maass.
Of course, it always helps to be accompanied by some writing friends.
MaryAnn Kohensky (Left) writes Paranormal Romance and Young Adult.
Dana Waganer (Above-Left) writes Mysteries set in the Midwest.
Me (Above- Right) I write Commercial/ Mainstream fiction.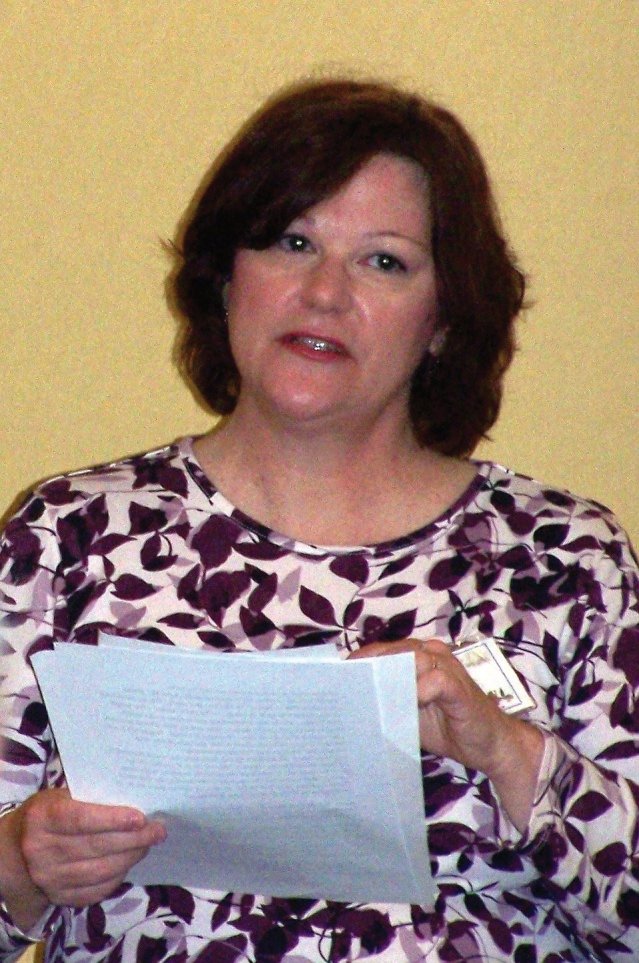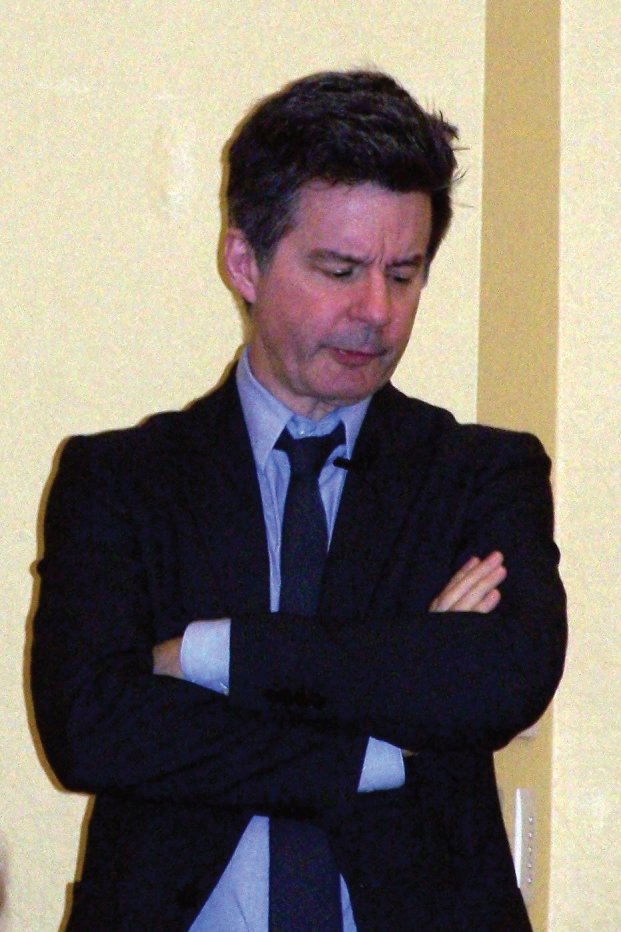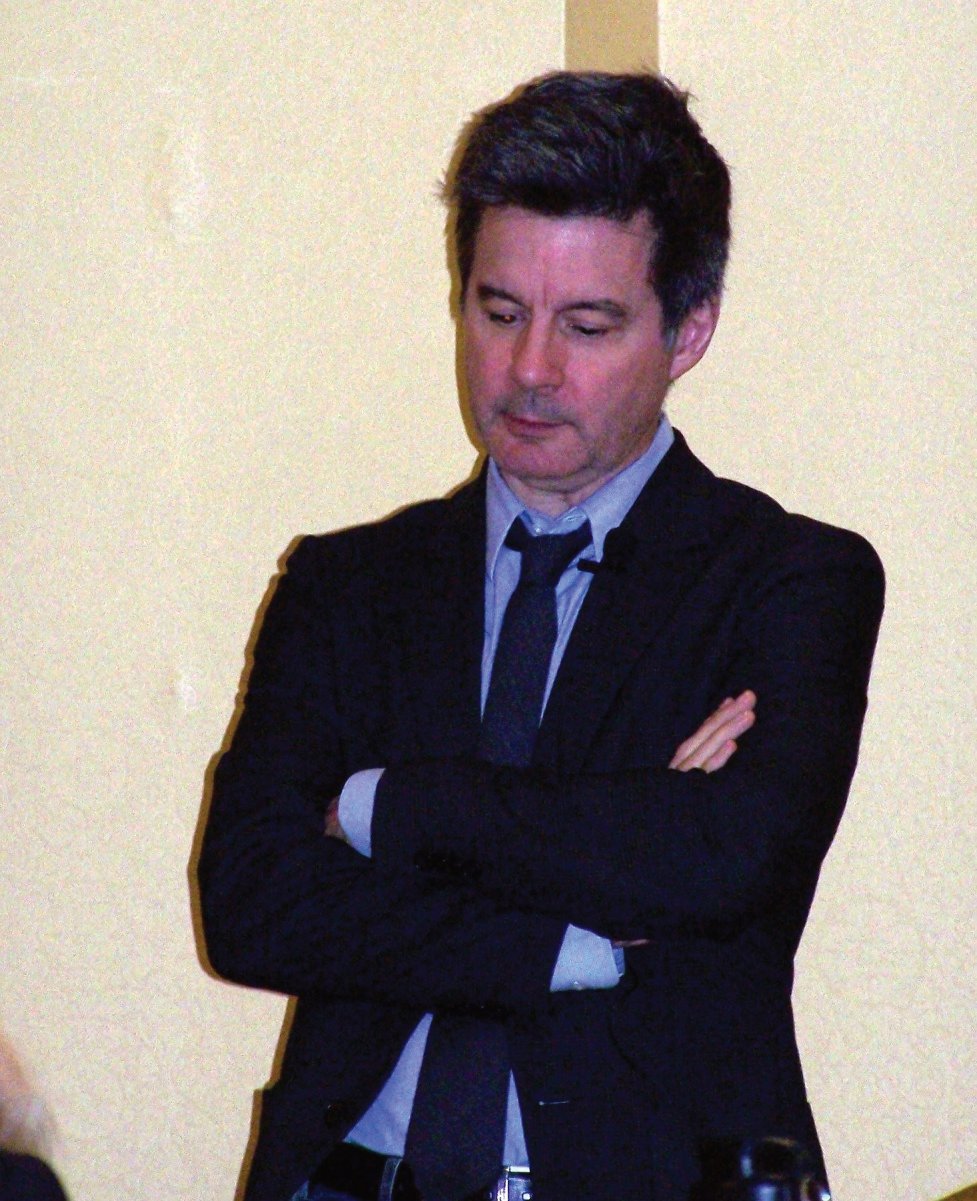 Donald Maass

of the

Mr. Maass spoke, instructed, and led our group for nearly eight hours straight. An amazing feat! I know he had to be exhausted. We worked our way through the Fire In Fiction book, completing exercises, and getting answers to all our questions.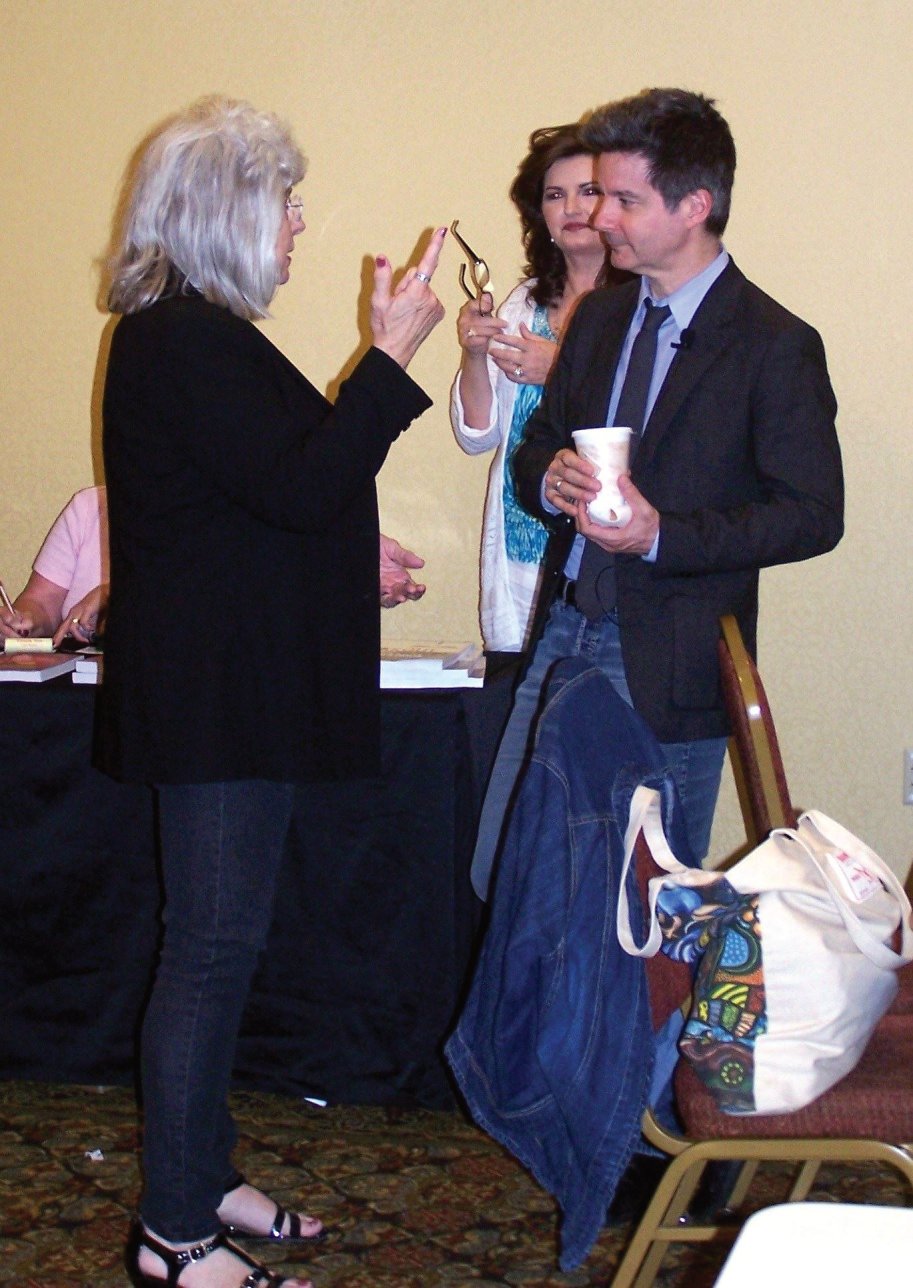 Afterwards, he signed books and talked to us individually.
A long workshop day was ended with dinner at
Mimi's Cafe
in Chesterfield.
I would highly recommend this workshop to anyone interested in honing their writing craft.

Can't wait for Friday evening when I get to have dinner with the
MORWA
group and Donald Maass. It should be a fun evening and a chance to network with other writers before attending the
Donald Maass
Fire In Fiction
Workshop on Saturday.
I've read the entire book and am ready to take notes, ask questions, and apply all that I've learned. I'll keep everyone updated on what happens. I think this is going to be an event well worth the price.

I'm getting very close to my monthly  goal of website hits. With a little help from readers and a little luck on my side, I should be able to meet that goal.
Tomorrow, Friday April 26th is the start of the
Annual Greater St. Louis Book Fair
. This charity event benefits everyone. It's a great place to stock up on books both old and new while helping Educational and Literacy Programs. The fair is held at Macy's in West County Center. Go to this
link
for the details.
More Events:
Friday, April 27
Walter Bargen and Howards Schwartz are scheduled to read at the Foundry Art Centre in St. Charles, MO. Tickets are $5 and will be for sale at the entrance. A cash bar will also be available. Author meet and greet, plus a book signing will follow the readings. 7pm,
Foundry Art Centre
, 520 North Main Street, 255-0270.
The 17
Annual Summer Writers Institute at Washington University
will be offered July 13-21, 2012. The SWI brings together prominent St. Louis writers as instructors and students from across the country. The SWI provides a rigorous, enlightening experience, both inside the workshop and at our extracurricular craft talks and readings. This year the SWI features a number of exciting new changes: first is our compressed format. Evening workshops will meet intensively for eight days and include creative nonfiction, sudden fiction and prose poetry, fiction, and screenwriting. Weekends will be devoted to daylong seminars, where local authors and experts will lecture on various craft subjects. As always our workshops will be taught by professional, published writers, experts in their fields. SWI will also, as always, feature one-on-one critiques, faculty readings, and an open mic. Sections will be kept small to facilitate discussion and are for-credit only. Registration begins March 28, 2012. For more information, please contact University College, 314-935-6720, or visit our webpage:
ucollege.wustl.edu/swi
The 2012 New Letters Literary Awards
.
New Letters
magazine invites you to submit a short story, an essay, or 3-6 poems to the 2012
New Letters
Literary Awards. Deadline: May 18, 2012. For guidelines, visit
www.newletters.org
, or send an S.A.S.E. to Ashley Kaine, Contest Coordinator,
New Letters
, University House/ UMKC, 5101 Rockhill Road, Kansas City, MO 64110.
This has been a busy week!

I've managed to write three out of the four articles I need for my website content gig. It's really tough to get those keyword density numbers up without compromising your writing style.
I did a re-write and an edit for a flash fiction story that I will be submitting in a few weeks. I'll keep you posted as to where you can read it when it's accepted. (I'm thinking positive.)
This weekend was the
Missouri Writer's Conference
. I couldn't make it, but have several friends who attended and I have every intention of picking their brains clean for new info and insights.
A special congratulations to my writer friend, Amanda, who took 1st place in the On The Spot writing contest at the conference. I can't wait to read her winning entry.
Another special congratulations goes to another writing friend, MaryAnn, who took 2nd place in the same contest. I'm anxious to read her winner as well.  She also pitched her novel, Killing Rabbits, and was asked to send the first chapter to an agent based on the first page only. It's a thrilling, dark, sad, twisted, and redeeming story. I know it's hard to get all that into one novel, but she did it.

It's been a week, but I'm still reeling from my short story,
Macchiato Memoirs
, being selected as the story of the day at
Every Day Fiction
on April 15th. You can still read, comment, and vote on it by following this link:
Macchiato Memoirs
. I promise I won't rave about it after this week, but please indulge me in a little more afterglow.
I've surpassed 100 followers on Twitter and have Tweeted 99 times. I'm also closing in on a short-term goal of 100 Blog  Posts by the end of the month. I'm confident I'll make it, but want to make certain that the content is worthy of my readers.

This was also Prom weekend in my town, so I got the opportunity to do a photo shoot of one of my favorite people and his girlfriend. I know many people think it very odd that a 19 year old and a 52 year old can be friends, but he loves literature and has a very unique mind. I expect he will be a published poet before long.
Last but not least, my daughter-in-law's ultrasound confirmed that my next grandchild is a girl! Of course this led to a pink power shopping trip and a depleted bank account, but she will be a very stylish little girl.
I hope everyone has had as productive and happy a week as I've had. Here's to hoping that next week is the same or better! Keep Writing!

I just signed up for the

If you are interested attending, just follow the links.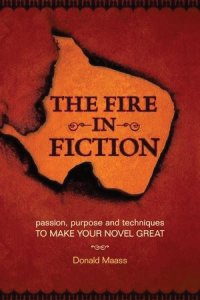 Based on his best-selling reference book, the Fire in Fiction workshop helps writers discover the passion, purpose, and techniques to make their writing great.  Donald Maass is a literary agent, president of the Donald Maass Literary Agency, and author of Writing the Breakout Novel as well as Fire in Fiction.  His popular workshops are sought after by writers of every genre.

0

/