Shopping Cart
Your Cart is Empty
There was an error with PayPal
Click here to try again
Thank you for your business!
You should be receiving an order confirmation from Paypal shortly.
Exit Shopping Cart

A couple of months ago, I entered a
Manuscript Evaluation Contest
run by
Barbara Kyle
.
Before entering the contest, I watched the video on the
Manuscript Evaluations
page on her website. After all, who wants to win a contest from someone who doesn't have
credentials
or doesn't gain your respect? Not me. My time is valuable.
                                                                                                                        Barbara Kyle

Fortunately, I truly appreciated her presentation. I learned from her. I enjoyed her straight forward approach. She didn't sugar-coat the writing process, but at the same time, she wasn't
derogatory
. She understood that each manuscript was someone's baby. A baby that had consumed large portions of the writer's life. I got the impression that even if the
plot
had holes large enough to drive a Hummer through,
                       Hummer                                                                                           Plot Hole

she possessed the ability to let the author know what needed to be done without wrecking their self-esteem or desire to write another word. That's a pretty fine line. Somehow, she managed to convey that in seven minutes. Can you imagine what she could do in an hour? If I'm wrong, then someone needs to let me know.

                                   Grand Prize: A Full Manuscript Evaluation
                                   NANCY RAVEN SMITH for Land Sharks 

                                   2nd Prize: A 50-page Evaluation
                                   MATTHEW PHILLIPS for Warrior Son
                                   3rd Prize: A 25-page Evaluation
                                   MAUREEN L. BONATCH for See No Evil
Unfortunately none of these three was me. While I didn't win, I still feel that it was worth the effort of entering (she made it very easy). I also feel as if I've made another valuable and accessible contact in the writing world.

I can't wait to see the final product of these manuscript evaluations. Can you say Best Seller?

The Best Part of This Week?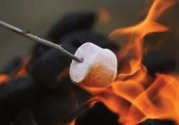 Roasting marshmallows at the park with my family.
It's been a crazy, hectic, chaotic last four months, but it's finally starting to slow down. My son has regained the feeling in his nearly severed fingers, my daughter is married, a brother has recovered from open heart surgery, a brother-in-law is learning to carry on with a few less toes than before, and I'm enjoying my new teaching position.

With a little less on the horizon in regard to family events (although the majority of recent ones were not planned), I hope to spend more time on writing. In fact, I  wrote today! Six pages of a short story that may or may not even have a purpose other than to make me feel better about getting some creative writing done.

I've been doing a lot of writing over the last three or four months, but none of it has been creative. Between writing tests, creating activities, freelance jobs, reports, query letters, and synopses, I have a high word count, but none of it came from the heart (except for maybe creating learning activities-I did enjoy that!)
Last week, I sent out three query letters, researched the 2014 Missouri Writer's Conference which I plan to attend, and received notice that I had been shortlisted for the 2013 Small Axe Literary Competition. While I didn't win, I was in the running for a while. I consider it quite an honor to be in consideration. It's also a sign that my writing is getting better.
Another sign of improvement is that I was going through some old flash drives and found a few short story starts that sputters to a stop for one reason or another. Many of them, I didn't even remember. Yet, one stood apart from the others. In fact, I admired it so much that I figured I must have copied it from somewhere as a source of inspiration. The choice of wording was spot on, the verbs powerful, and the promise of an intriguing story lay in a few short paragraphs. Impressive. In fact, so impressive that I was certain it came from someone else!
In an effort not to plagiarize and a desire to find out more of the story behind this sampling of paragraphs, I googled it. Nothing. I binged it. Still nothing. I tried a few other search engines which returned zero results before it finally hit me. I did write these paragraphs. I did this.
I always thought it was better to impress someone else (preferably an agent or publisher) with my writing skills, but I have to say I think I might like impressing myself even better. Of course impressing myself doesn't mean I'm any closer to being traditionally published than I was a year or two or three ago, but I do think it means that I won't be ashamed of my work when publication does occur.
In the meantime, I'll keep plugging away, learning more about the craft, writing daily, and submitting.  You do the same.

Here's a few links to check out:
And last, but not least, one photo of the bride. You can forgive me later.
;

Here's hoping that everyone had a great Easter. I know I did. I'm exhausted!
I did make it home in time to get my application in to the SLF Older Writers Grant. Made the deadline with only an hour or so to spare.

Here's an explanation of what it is (and yes, I stole this from their website):
The SLF Older Writers Grant is awarded annually to a writer who is fifty years of age or older at the time of grant application, and is intended to assist such writers who are just starting to work at a professional level. We are currently offering one $750 grant annually, to be used as the writer determines will best assist his or her work.
What a great idea to help out older writers who are starting/following their passions later in life. It's so easy to get sidetracked with work, children, spouses, and the day-to-day routines that before a person knows what happened, they've gone from 25 to 50.

Whoever wins the scholarship will appreciate it all the more for having waited so long to be eligible!
Wish me luck!

This is a re-post of the information from:
Columbus Creative Cooperative
The Great Novel Contest 2013 Finalists!
We are pleased to announce The Great Novel Contest 2013 Finalists!
We received 111 submissions to this year's contest.  Our judges were very impressed with the overall quality of the submissions.
All judging was conducted blindly.  No names were provided to the judges.
The following ten novels were selected as finalists:
The Idealists' Daughter by Erin Altemus
The Accidental by John Bartell
The Patterer by Larry Brill
Vigilant by Joan Dempsey
Graham's Charlotte by Drew Farnsworth
Catch a Killer, Save the World by Mel Goldberg
The Bad Demon by Jason Helmandollar
The Late Michael Brown by Paul Ketzle
The Way to Go Home by Catharine Leggett
The Horizon Conspiracy and a Bag of Bones by Ben Orlando
Congratulations to all of the finalists!
These ten novels will now be forwarded to Harvey Klinger, who will select the winner and runner-up.
While the following eight novels were not selected as finalists, our judges found them to be excellent work, deserving of an honorable mention:
Blue Feathers by Ashley Barner
A Meeting in Waterloo by Byron Edgington
From the Love of Strangers by Ellen Michaelson
Royal Blood by Savannah Thorne
Only Ghosts by Carrie-Ann Tkaczyk
Womb by Mary Reed
The Light Catcher by Cynthia Rosi
What Remains by Lynn Sloan
Thank you to all of the authors who submitted your work for consideration.
While not every novel can be selected as a finalist this year, we hope that you'll continue writing and working on your craft.
Congratulations again to the ten finalists!
Lots of news on this first day of 2013. I don't know if I was trying to cram a lot into the remnants of 2012 or if I finally had a moment when I didn't have to buy a gift, make a gift, wrap it, cook or decorate something. Whatever the reason I'll take it!
I applied for a part-time seasonal job where I'll get to use my Spanish skills. I love being bilingual. Even if you don't understand the why or want to learn a second language yourself, please allow/encourage your children to do so. The benefits are too great not to. A bilingual person has so many more job opportunities with a higher pay scale than the person who speaks only one language.  It also gives a person a more global view, and whether you want to admit it or not, the United States is not living in isolation. A global community and outlook is the only way to go. Natural resources are limited and everyone is going to have to pull together to feed, clothe, house, educate, and care for everyone that lives on this only-planet-that-we-have.
One reason for applying is the money. I need a few more income streams to finance my vacation/adventure plans and pay my taxes! Also, it establishes a routine in my life while exposing me to a variety of people, cultures, and lifestyles. All is fodder for my future writing. Novelists cannot live in a bubble. A bubble makes for boring writing.
Secondly, I signed up for the 1st ever Writer/Storyteller Event at Urban Eats in St. Louis, MO not far from Saint Louis University (one of my old stomping grounds!). This event has a live audience and will be recorded. I have to TELL a story--no reading allowed-- about a humorous travel event. This is soooo far out of my comfort zone that I have to give it a try. I don't mind public speaking in the least. Ask my friends or family and all will tell you that I could speak to anybody anywhere at any time. However, I'm not fond of being filmed or photographed. That's one of the reasons I've been so involved in photography. If you're behind the camera you don't have to worry about being in front of one. I'm not photogenic in the least.  I hope anyone in the area will come to Urban Eats on February 22 between 7 and 9 pm to watch me stretch my boundaries. Maybe, it will inspire you to stretch yours as well.
Thirdly, I jotted down a flash fiction story last night as I partied with Dick Clark's ghost. It still has some fine-tuning, but the bones are there and they're good ones. I entered the first paragraph into Contest #48 at Writer's Digest. This contest is based on a photo prompt. Writer's Digest will select the ten best and post them on their website (www.writersdigest.com/forum). In March, readers will get to vote for their favorite. Hopefully, I will be your favorite.

Lastly, I've updated my blog!
2013 is already productive! Can't wait to see what the future holds or what I decide to make of it.

I love researching oddities. The odd bits and pieces I run across never cease to amaze me and usually end up in my written works in ways I never anticipated.
One of my recent finds has to do with rare and interesting mental disorders and illnesses.

One of my favorites is Wendigo Psychosis. Wendigo Pyschosis is a culture-bound disorder which involves an intense craving for human flesh and the fear that one will turn into a cannibal. This once occurred frequently among Algonquian Indian cultures, though has declined with the Native American urbanization.
Is this a possible explanation for the Zombie Apocalypse?
Another syndrome is the Capgras delusion. This disorder occurs when a person holds a delusional belief that a friend, spouse or other close family member, has been replaced by an identical-looking impostor. The Capgras delusion is classed as a delusional misidentification syndrome, a class of delusional beliefs that involves the misidentification of people, places or objects. It can occur in acute, transient, or chronic forms.
More information on these and other rare and interesting disorders can be found at:
www.nowthatsnifty.com

"Coop?"
"Yeah?"
"Kids without parents are orphans, but what do you call parents who have lost a child? Is there a name for them?"
An awkward pause filled the air before Cooper answered, "I think they're called tortured."
"Yeah," replied Burton, "that's what I thought."
I'm getting very close to my monthly  goal of website hits. With a little help from readers and a little luck on my side, I should be able to meet that goal.
Tomorrow, Friday April 26th is the start of the
Annual Greater St. Louis Book Fair
. This charity event benefits everyone. It's a great place to stock up on books both old and new while helping Educational and Literacy Programs. The fair is held at Macy's in West County Center. Go to this
link
for the details.
More Events:
Friday, April 27
Walter Bargen and Howards Schwartz are scheduled to read at the Foundry Art Centre in St. Charles, MO. Tickets are $5 and will be for sale at the entrance. A cash bar will also be available. Author meet and greet, plus a book signing will follow the readings. 7pm,
Foundry Art Centre
, 520 North Main Street, 255-0270.
The 17
Annual Summer Writers Institute at Washington University
will be offered July 13-21, 2012. The SWI brings together prominent St. Louis writers as instructors and students from across the country. The SWI provides a rigorous, enlightening experience, both inside the workshop and at our extracurricular craft talks and readings. This year the SWI features a number of exciting new changes: first is our compressed format. Evening workshops will meet intensively for eight days and include creative nonfiction, sudden fiction and prose poetry, fiction, and screenwriting. Weekends will be devoted to daylong seminars, where local authors and experts will lecture on various craft subjects. As always our workshops will be taught by professional, published writers, experts in their fields. SWI will also, as always, feature one-on-one critiques, faculty readings, and an open mic. Sections will be kept small to facilitate discussion and are for-credit only. Registration begins March 28, 2012. For more information, please contact University College, 314-935-6720, or visit our webpage:
ucollege.wustl.edu/swi
The 2012 New Letters Literary Awards
.
New Letters
magazine invites you to submit a short story, an essay, or 3-6 poems to the 2012
New Letters
Literary Awards. Deadline: May 18, 2012. For guidelines, visit
www.newletters.org
, or send an S.A.S.E. to Ashley Kaine, Contest Coordinator,
New Letters
, University House/ UMKC, 5101 Rockhill Road, Kansas City, MO 64110.
This has been a busy week!

I've managed to write three out of the four articles I need for my website content gig. It's really tough to get those keyword density numbers up without compromising your writing style.
I did a re-write and an edit for a flash fiction story that I will be submitting in a few weeks. I'll keep you posted as to where you can read it when it's accepted. (I'm thinking positive.)
This weekend was the
Missouri Writer's Conference
. I couldn't make it, but have several friends who attended and I have every intention of picking their brains clean for new info and insights.
A special congratulations to my writer friend, Amanda, who took 1st place in the On The Spot writing contest at the conference. I can't wait to read her winning entry.
Another special congratulations goes to another writing friend, MaryAnn, who took 2nd place in the same contest. I'm anxious to read her winner as well.  She also pitched her novel, Killing Rabbits, and was asked to send the first chapter to an agent based on the first page only. It's a thrilling, dark, sad, twisted, and redeeming story. I know it's hard to get all that into one novel, but she did it.

It's been a week, but I'm still reeling from my short story,
Macchiato Memoirs
, being selected as the story of the day at
Every Day Fiction
on April 15th. You can still read, comment, and vote on it by following this link:
Macchiato Memoirs
. I promise I won't rave about it after this week, but please indulge me in a little more afterglow.
I've surpassed 100 followers on Twitter and have Tweeted 99 times. I'm also closing in on a short-term goal of 100 Blog  Posts by the end of the month. I'm confident I'll make it, but want to make certain that the content is worthy of my readers.

This was also Prom weekend in my town, so I got the opportunity to do a photo shoot of one of my favorite people and his girlfriend. I know many people think it very odd that a 19 year old and a 52 year old can be friends, but he loves literature and has a very unique mind. I expect he will be a published poet before long.
Last but not least, my daughter-in-law's ultrasound confirmed that my next grandchild is a girl! Of course this led to a pink power shopping trip and a depleted bank account, but she will be a very stylish little girl.
I hope everyone has had as productive and happy a week as I've had. Here's to hoping that next week is the same or better! Keep Writing!

My short story, Macchiato Memoirs, was published at Every Day Fiction. It was the Story of the Day on Sunday, April 15th. I hope everyone will check it out and consider having Every Day Fiction delivered to your email every day.

Every Day Fiction is a magazine that specializes in bringing you fine fiction in bite-sized doses. Every day, they publish a new short story of 1000 words or fewer that can be read during your lunch hour, on transit, or even over breakfast.
It's an amazing feeling to see my fiction published. I've been in the clouds ever since Every Day Fiction contacted me. While I've published essays, web content, letters, Op Ed pieces, and academic works, this is the first fiction that has seen the light of day. It has given me almost as much a rush as the main character in the story gets from his habit!
I am loving the comments and feedback. Keep it coming!

/