Shopping Cart
Your Cart is Empty
There was an error with PayPal
Click here to try again
Thank you for your business!
You should be receiving an order confirmation from Paypal shortly.
Exit Shopping Cart
December, while being a hectic holiday time, is also a time of reflection. At least, it is for me. Between December 25th and January 25th, I make a point of reviewing the events of the past year to see how close I came to achieving my goals.

I also ponder on what I would like to accomplish in the new year. These are not resolutions. Resolutions are lucky to last a week or two. Instead of drunken promises made on New Year's Eve, I make a written list of goals that I would like to attain during the next 11 months. Be they personal, professional, or physical, I'm more likely to work toward them if they are written down and put in a prominent place where I can't help but see them and be reminded to make an effort.

It's a rare year that I check off everything on my list. It's also a rare year that I don't check off the majority of items on my list. The list gives me a direction to turn when I'm floundering. The list keeps me on track. The list is a constant reminder of the "promises" I've made to myself.

List making is one of life's constants for me. Over the years, I've collected thirty--give or take a few--annual lists. I keep them in a small file folder where I can review them every five to ten years. If the same goal pops up year after year, yet never gets accomplished, I have to ask myself why? Maybe, I write it down because I think it's something I should do, but would really rather not. Maybe, it's another's expectation of me. If it's something I want to accomplish, but don't, then maybe it's time for some professional help or a severe reality check on my part.
Some of the goals from my twenties are laughable to me now that I'm in my fifties. What seemed so important thirty years ago has little meaning in the world I live in today. From my lists, I can track my growth or the lack of it.
Lists are not for everyone, but they work for me.
How do you view the end of one year and the start of another? Do you have any traditions or rituals that have evolved over the years? If so, what are they? If you don't, might I suggest making a list?

One of my short stories. "Kingdom of One" will be published in the October issue (#28) of The Caribbean Writer.
The Caribbean Writer (TCW
)--The Literary Gem of the Caribbean-- is an international, refereed, literary journal with a Caribbean focus, founded in 1986 and published annually by the University of the Virgin Islands.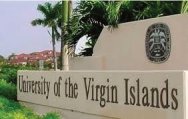 The 2014 edition of The Caribbean Writer, Volume 28, highlights Time, Place, and Memories, so "Kingdom of One" was a good fit.
I hope everyone who reads it will enjoy or at least, appreciate the story. Like most of my work, it's dark and leaves the reader questioning the distinction between right and wrong.

I can't wait to see what it look like in print! You can order a copy of Issue #28
here
. I hope that any and every one who reads it will send me some feedback. I would really like to hear your thoughts on it.
As an unexpected bonus, its publication in the journal puts me in the running for a literary award. It will be a year before the 2014 award winners are announced, but wouldn't it be great to get an award from a university located on one of my favorite islands?


Who wouldn't want to be here? I have fond memories of vacationing in St. Croix with my son when he was a child. We had such adventures there!
My next topic has to do with critiques. I take part in several critique groups and at times, I've walked away from them feeling as if I'm not getting serious feedback. Other times, I've come away feeling guilty that I've perhaps been too harsh with my comments.

Without construction, honest criticism, I don't see how my writing can get any better. How will I improve? Maybe, others aren't at the critiques to improve, but rather to have their works lauded. If that's the case, it's a game I don't play well.  I'm honest. Brutally honest. If that means saying, this piece needs a lot of work and here are some examples of what is wrong and some suggestions on how to make it better, then that's what I say.
Fortunately, I'm not the only one who believes this kind of honesty is the best policy. A writer whose work I admire and whose critiques I take to heart,
Harve
y Stanbrough
, has generously allowed me to lift a paragraph from one of his blog posts. Here goes:
Social Graces — Yeah, well, okay, I just don't have 'em, I guess. I keep getting emails telling me I should be more gentle with my criticism when other writers ask me to critique their work. Sorry, but I'm just not that guy. When someone tells you only what you want to hear, maybe on the surface it makes you feel good but you learn NOTHING. What's worse, you never know whether that person is telling you the truth about anything. What you get from me — but only if you ask — is the plain, unvarnished truth, good or bad. When I tell you something could be better, I'll try to explain how to fix it. Maybe best of all, when I pay your work a compliment, you'll know I mean it. The professional (or the aspirant who will become a professional) gladly suffers criticism in order to grow in the craft. The aspirant who would rather hear unearned praise than be afforded an opportunity to grow will never be a professional. It really is as simple as that.
On a personal note, I got to spend some time in Mexico this summer. I always have a great time when I'm there and this time was no exception. I got to experience my first deep sea fishing trip and came home a winner as you can see below.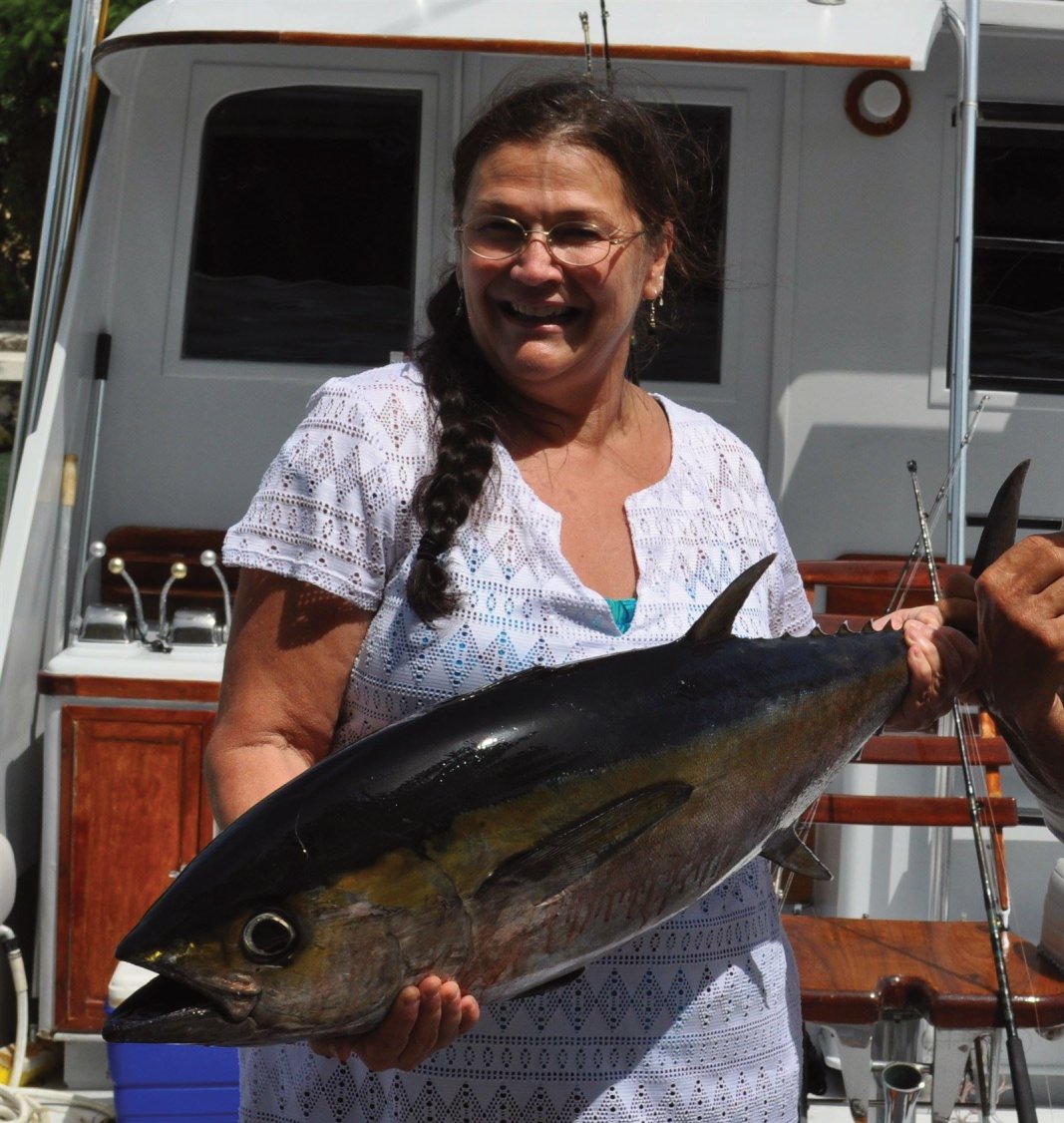 My catch-of-the-day was a 25 pound black fin tuna! Not bad for my first time.

Mundo cut it into steaks.                         The Chef cooked it for me!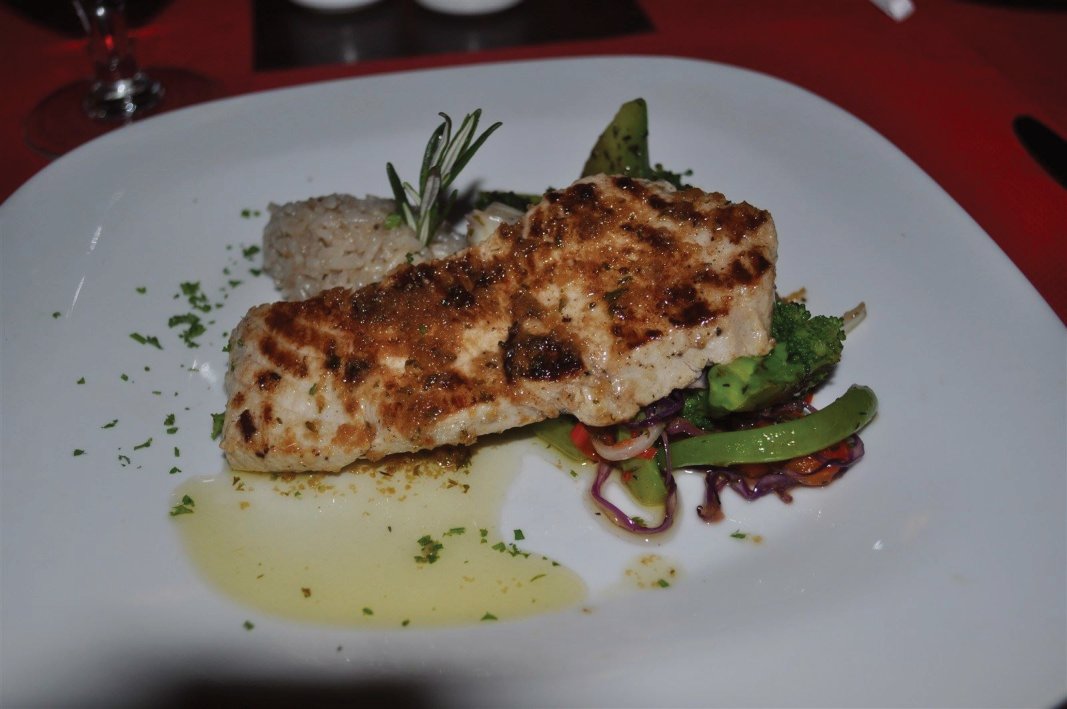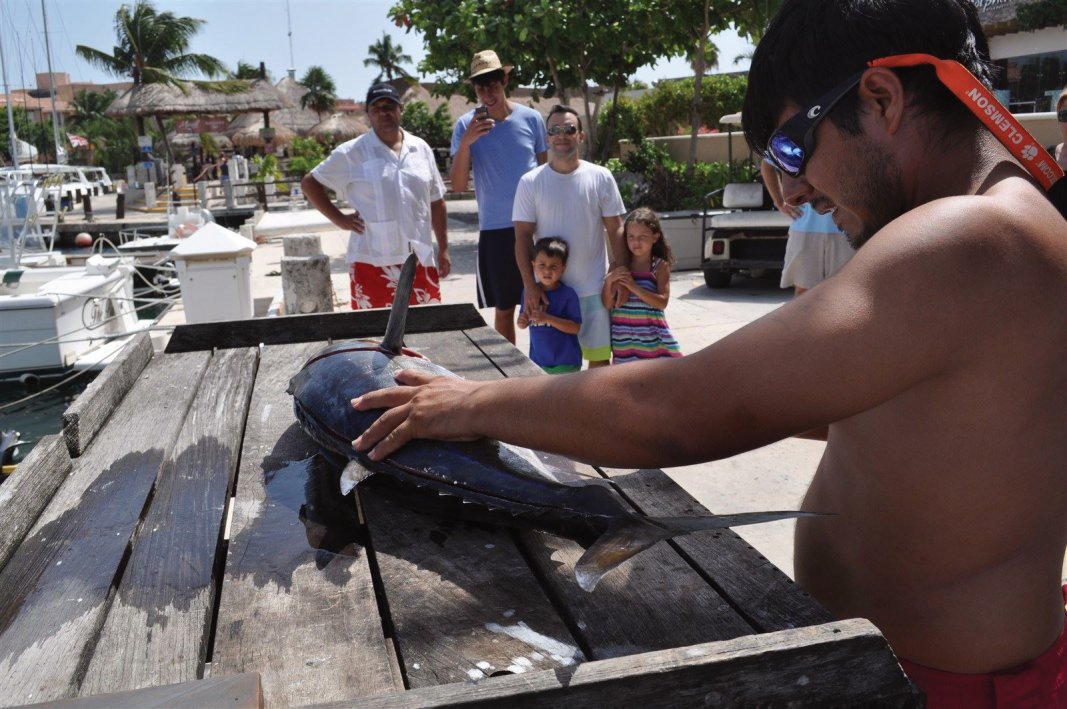 I also got the opportunity to swim with the dolphins. It's something that's been on my bucket list for several years, but just couldn't seem to make it work until now.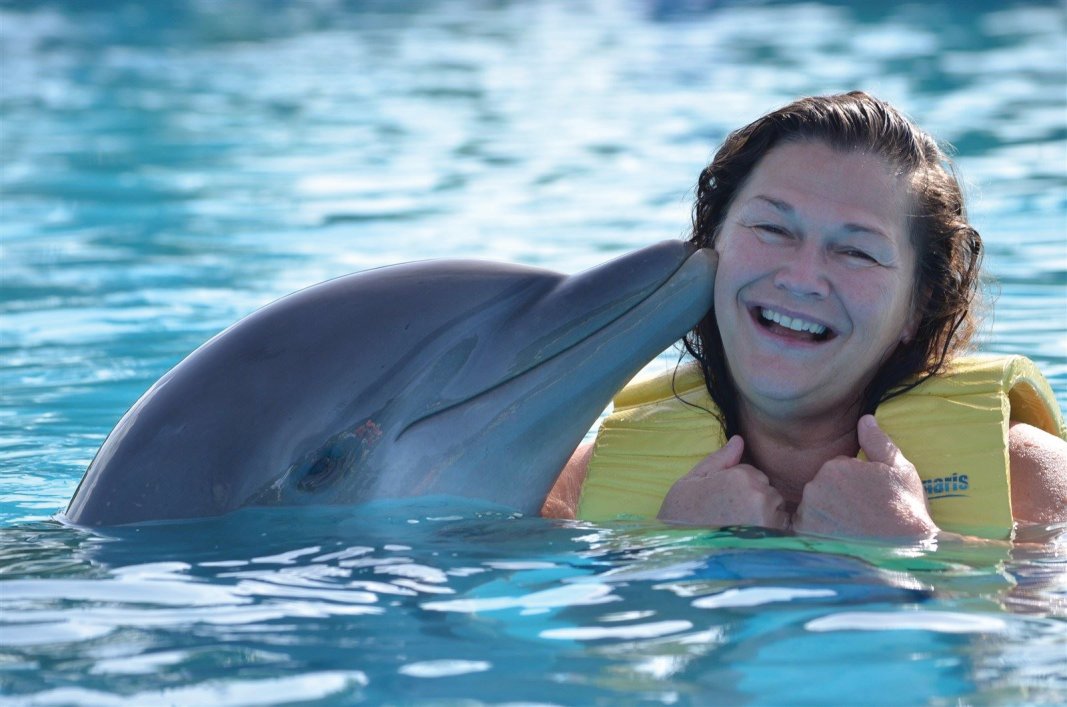 Me and Nautica. 
I strongly encourage you to swim with a dolphin if you ever get the chance. It was AMAZING!

On a final note, I'm off to see Gone Girl with my daughter. We've both read the book and are curious as to how well the movie is done.

Lots of news on this first day of 2013. I don't know if I was trying to cram a lot into the remnants of 2012 or if I finally had a moment when I didn't have to buy a gift, make a gift, wrap it, cook or decorate something. Whatever the reason I'll take it!
I applied for a part-time seasonal job where I'll get to use my Spanish skills. I love being bilingual. Even if you don't understand the why or want to learn a second language yourself, please allow/encourage your children to do so. The benefits are too great not to. A bilingual person has so many more job opportunities with a higher pay scale than the person who speaks only one language.  It also gives a person a more global view, and whether you want to admit it or not, the United States is not living in isolation. A global community and outlook is the only way to go. Natural resources are limited and everyone is going to have to pull together to feed, clothe, house, educate, and care for everyone that lives on this only-planet-that-we-have.
One reason for applying is the money. I need a few more income streams to finance my vacation/adventure plans and pay my taxes! Also, it establishes a routine in my life while exposing me to a variety of people, cultures, and lifestyles. All is fodder for my future writing. Novelists cannot live in a bubble. A bubble makes for boring writing.
Secondly, I signed up for the 1st ever Writer/Storyteller Event at Urban Eats in St. Louis, MO not far from Saint Louis University (one of my old stomping grounds!). This event has a live audience and will be recorded. I have to TELL a story--no reading allowed-- about a humorous travel event. This is soooo far out of my comfort zone that I have to give it a try. I don't mind public speaking in the least. Ask my friends or family and all will tell you that I could speak to anybody anywhere at any time. However, I'm not fond of being filmed or photographed. That's one of the reasons I've been so involved in photography. If you're behind the camera you don't have to worry about being in front of one. I'm not photogenic in the least.  I hope anyone in the area will come to Urban Eats on February 22 between 7 and 9 pm to watch me stretch my boundaries. Maybe, it will inspire you to stretch yours as well.
Thirdly, I jotted down a flash fiction story last night as I partied with Dick Clark's ghost. It still has some fine-tuning, but the bones are there and they're good ones. I entered the first paragraph into Contest #48 at Writer's Digest. This contest is based on a photo prompt. Writer's Digest will select the ten best and post them on their website (www.writersdigest.com/forum). In March, readers will get to vote for their favorite. Hopefully, I will be your favorite.

Lastly, I've updated my blog!
2013 is already productive! Can't wait to see what the future holds or what I decide to make of it.

Free E-Books

Beginning tomorrow on Sunday, March 4, and running through Saturday, March 10, several books on Smashwords are available FREE. This includes fiction and poetry collections as well as nonfiction books on writing.
To receive your free book or books, go to
https://www.smashwords.com/profile/view/HStanbrough
and make your selection(s). During checkout, enter the code RE100. That's all there is to it. Note that this promotion is valid only on Smashwords, not through any other retailer. However, at Smashwords you can download your ebook for Nook, Kindle or PC. Give it a try!
This came courtesy of my friend and author, Harvey Stanbrough. Be sure to select a few or more of his books, and pass this info on to your friends.

Helpful Hints:
1. When you go there and order, during checkout you have to enter the coupon code RE100 to get the book free.
2. If you want several books, you can them at one time. You don't have to order them separately.
3.The book does NOT immediately ship to you. After you order, you'll see a link created from the title of the book. Click that link. It will open the book's page, and on that page you select which version you want (.mobi for Kindle, .epub for Nook or Apple, PDF for computer, etc.). You download the file directly to your computer. (If you order .mobi or .epub, you then connect your Kindle, Nook or other device to your computer and transfer the file from your computer to your reading device.)
3. You do not have to own a Kindle or Nook ereader in order to download and read ebooks. You can download a PDF version and read it on your computer. Also, if you go to my website at
http://harveystanbrough.com
and look in the right column under Resources for Writers, you will see links where you can download an absolutely FREE ereader for Kindle or Nook files so you can read them on your PC or Mac computer.
Spent July 3rd in Hannibal, Missouri, hometown of Samuel Clemens aka Mark Twain. One of the many museums devoted to all things Twain showcased First Editions of several of his works.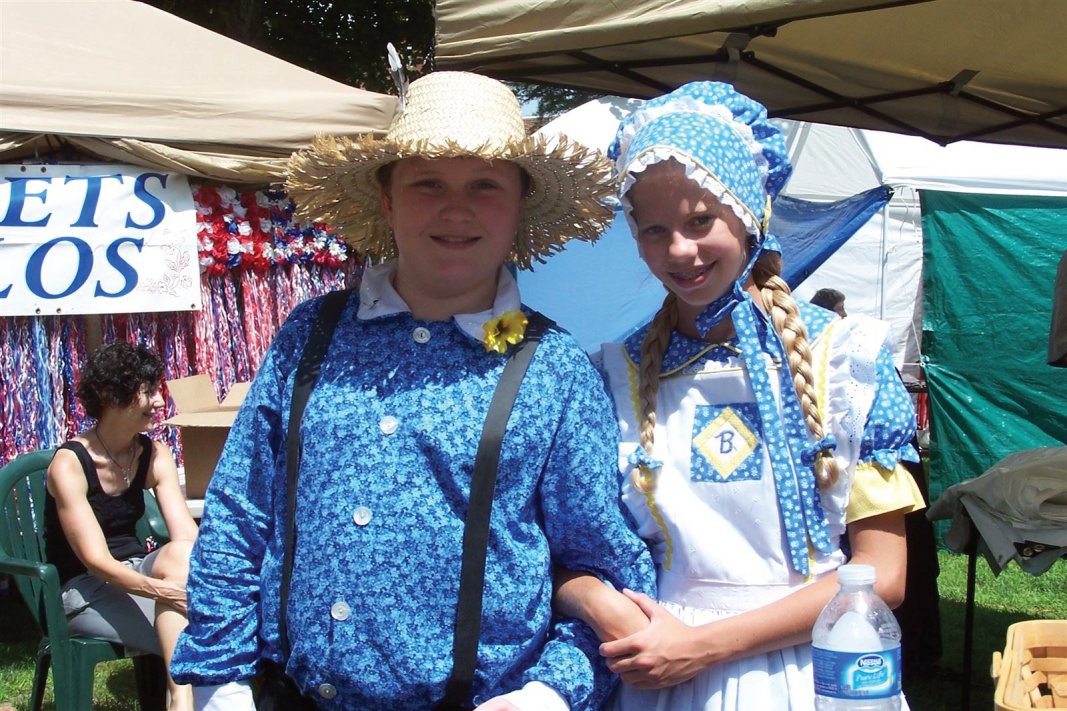 I also had the pleasure of meeting Tom Sawyer and Becky Thatcher.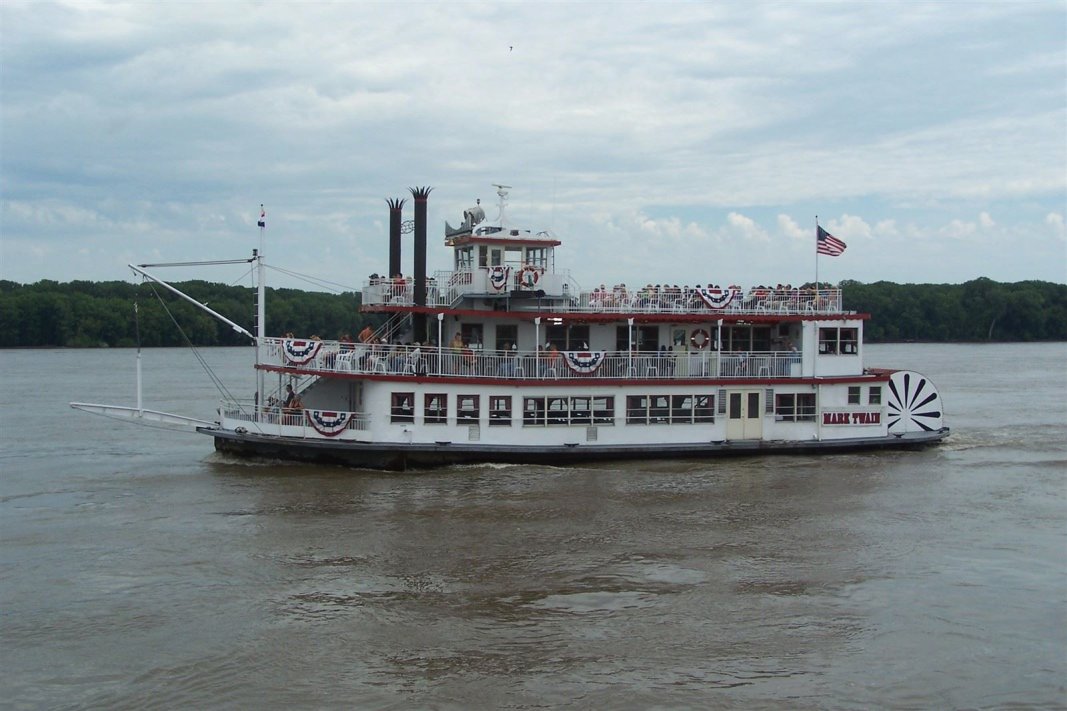 Cruises on the riverboat, Mark Twain, were also quite popular.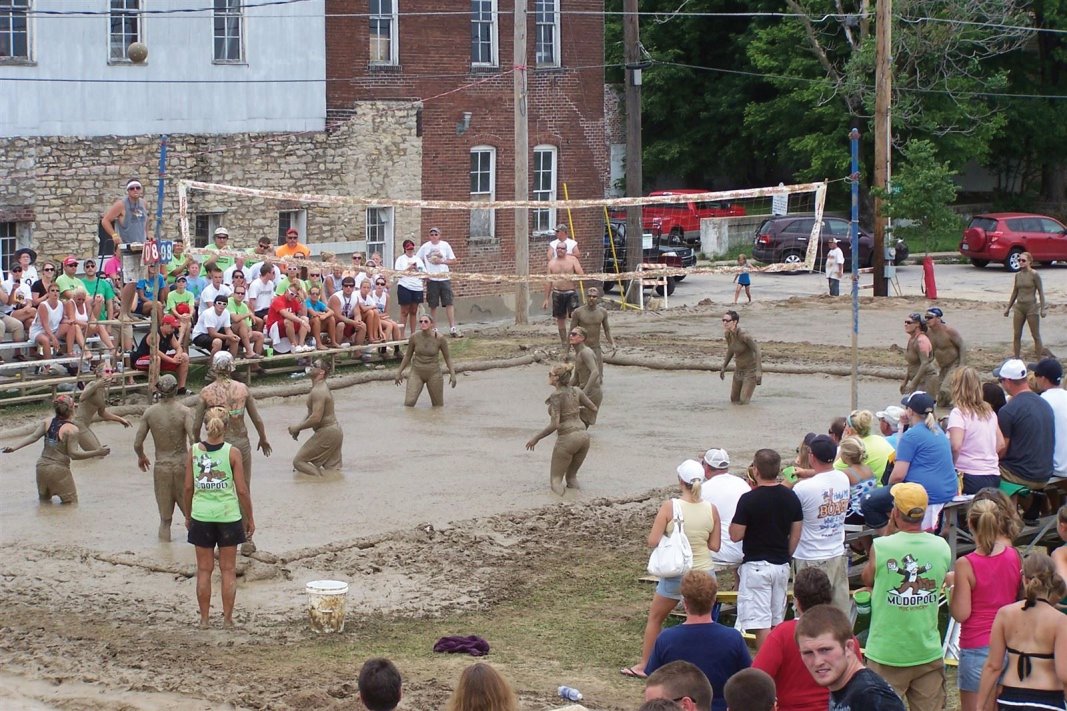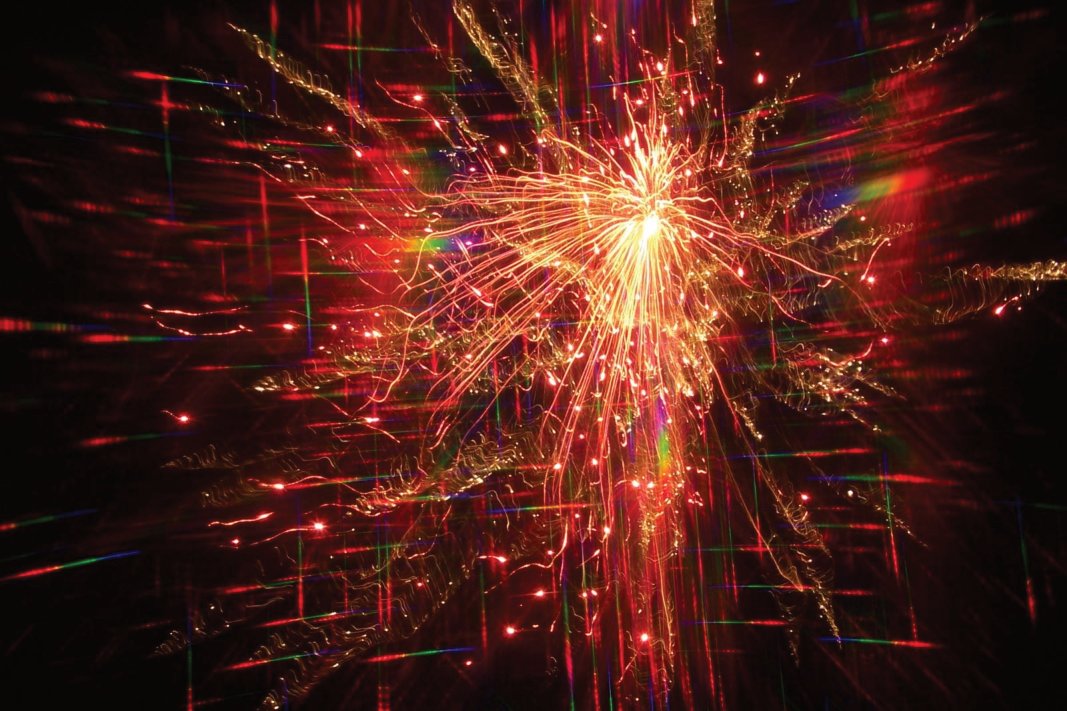 For the athletic ones in the crowd, there was a Mud Volleyball competition. The players were serious about the game and the spectators were equally as serious about the mud. It was a spectacle that Tom and Huck would have been proud in which to participate.
We capped off the weekend with a fabulous fireworks display.
I didn't do much writing or reading, but certainly was inspired by a lot of the sights!

The Book House in St. Louis off of Manchester is one of my faves. Not only does it have thousands and thousands of books, it also has a ghost. They are also having a giant book sale over Memorial Weekend.

Check it out.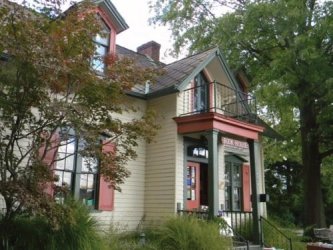 Merry Christmas Eve. The tree is lit, the gifts are wrapped and snow flurries to the ground. Carols play and all is right with the world.




I hope everyone finds peace, joy and contentment.




Merry Christmas.








0

/