Shopping Cart
Your Cart is Empty
There was an error with PayPal
Click here to try again
Thank you for your business!
You should be receiving an order confirmation from Paypal shortly.
Exit Shopping Cart
Had a great brainstorming session last night with critique buddies, MaryAnn and Dana. Each of us brought a work-in-progress, read a portion, and gave feedback.
Part of the writing process is to put your work in front of other eyes before it's polished. Sometimes, that's difficult because it's not your best work and you know it's going to receive negative feedback which is critical to making it better. Necessary, but not any easier to take. Fortunately, I don't have too much of an issue with that.
That's not to say that all feedback for WsIP is negative. It's important to have a critique group that recognizes the good, questions the questionable, and isn't afraid to say, "I don't get it." Fear is the mind killer and being fearful to give or receive criticism will ultimately weaken your work and that of others in your group.
I remind myself when giving feedback to include the good with the bad. A rule of thumb I like to use is:
1.      What is good about this?
2.      What's something else that's good?
3.      What would make it better?
Another method is the "sandwich".
1.      Name one thing that good.
2.      One thing that needs work.
3.      Another thing that's good.
Remember that the work you're critiquing is someone else's baby. Treat it with care.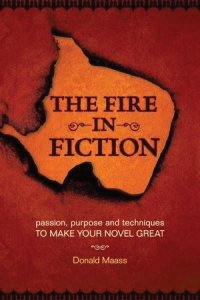 Fire In Fiction Workshop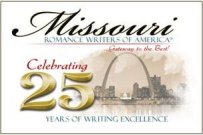 Since I don't write
romances, I was a little doubtful as to how I would be received. My doubts were quickly laid to rest and I was warmly welcomed.  The people of MOWRA are professionals who believe in working on and learning their craft, and they really know how to put on a workshop!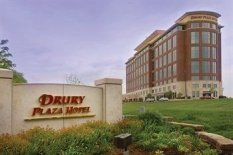 The location at the Drury Inn in Chesterfield was a great, centrally-located site. The ballroom was spacious, but not so large as to feel lost and have to squint to see Donald Maass. Acoustically, the microphone/sound system functioned well without that horrible screeching feedback that makes a person cringe. MOWRA supplied light snacks and plenty of beverages throughout the day. We were a well-hydrated and caffeinated group!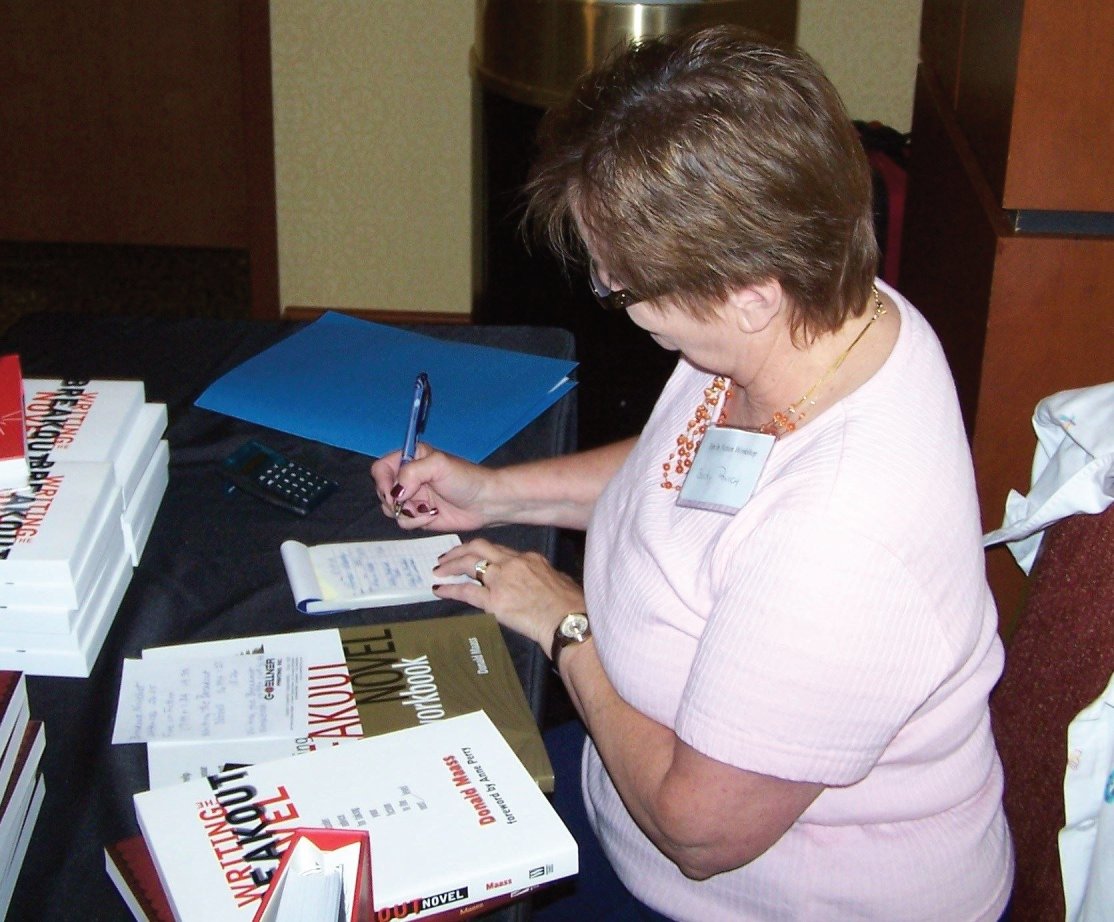 Main Street Books
of St. Charles, MO was the designated bookseller for the event. Their booth contained many of the writing help titles written by Donald Maass.
Of course, it always helps to be accompanied by some writing friends.
MaryAnn Kohensky (Left) writes Paranormal Romance and Young Adult.
Dana Waganer (Above-Left) writes Mysteries set in the Midwest.
Me (Above- Right) I write Commercial/ Mainstream fiction.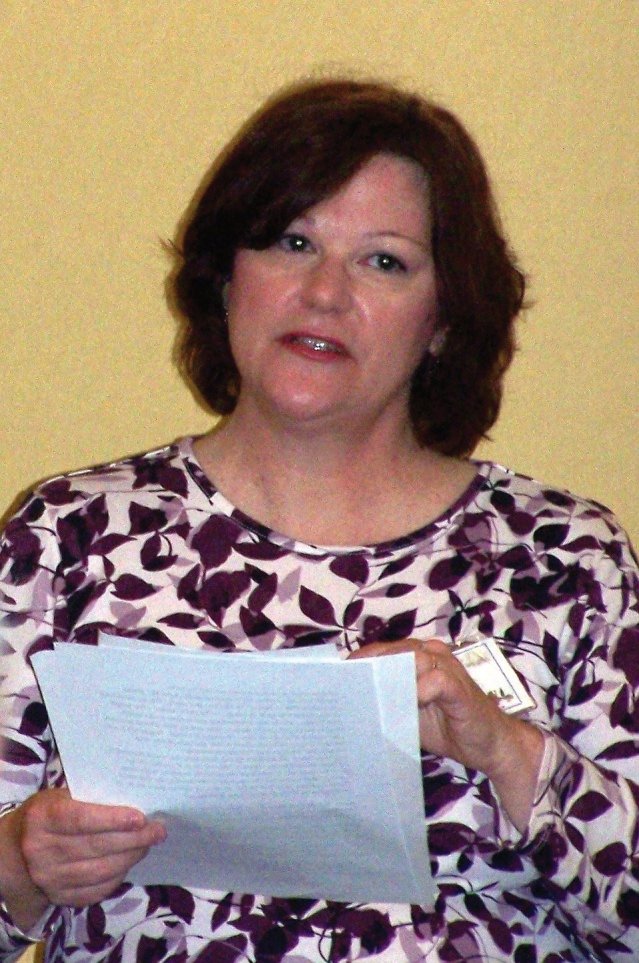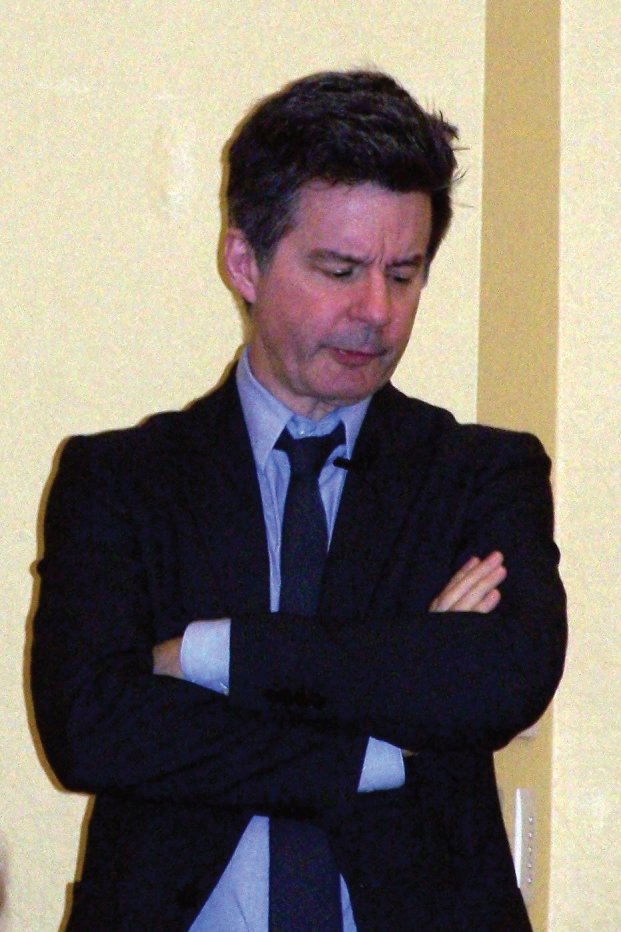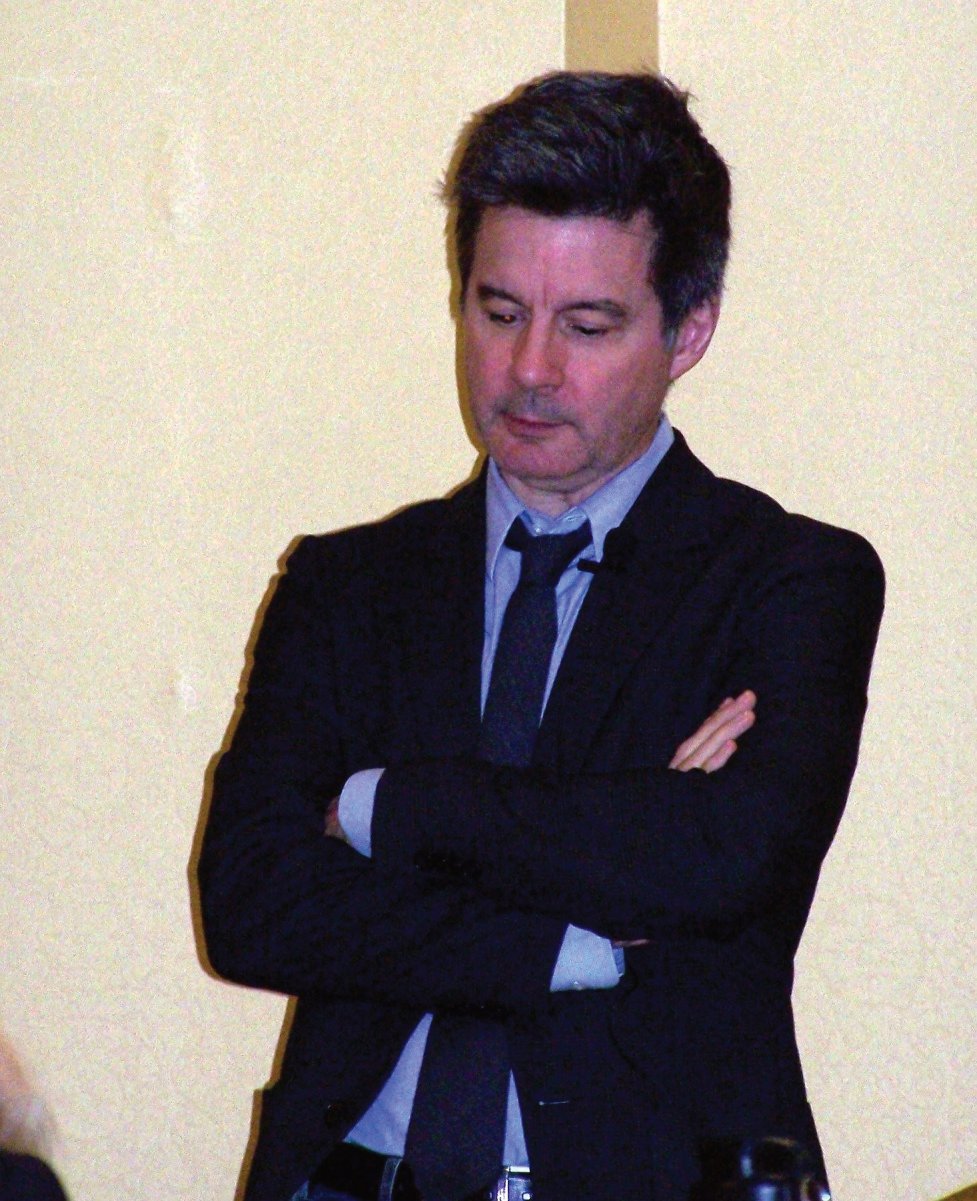 Donald Maass

of the

Mr. Maass spoke, instructed, and led our group for nearly eight hours straight. An amazing feat! I know he had to be exhausted. We worked our way through the Fire In Fiction book, completing exercises, and getting answers to all our questions.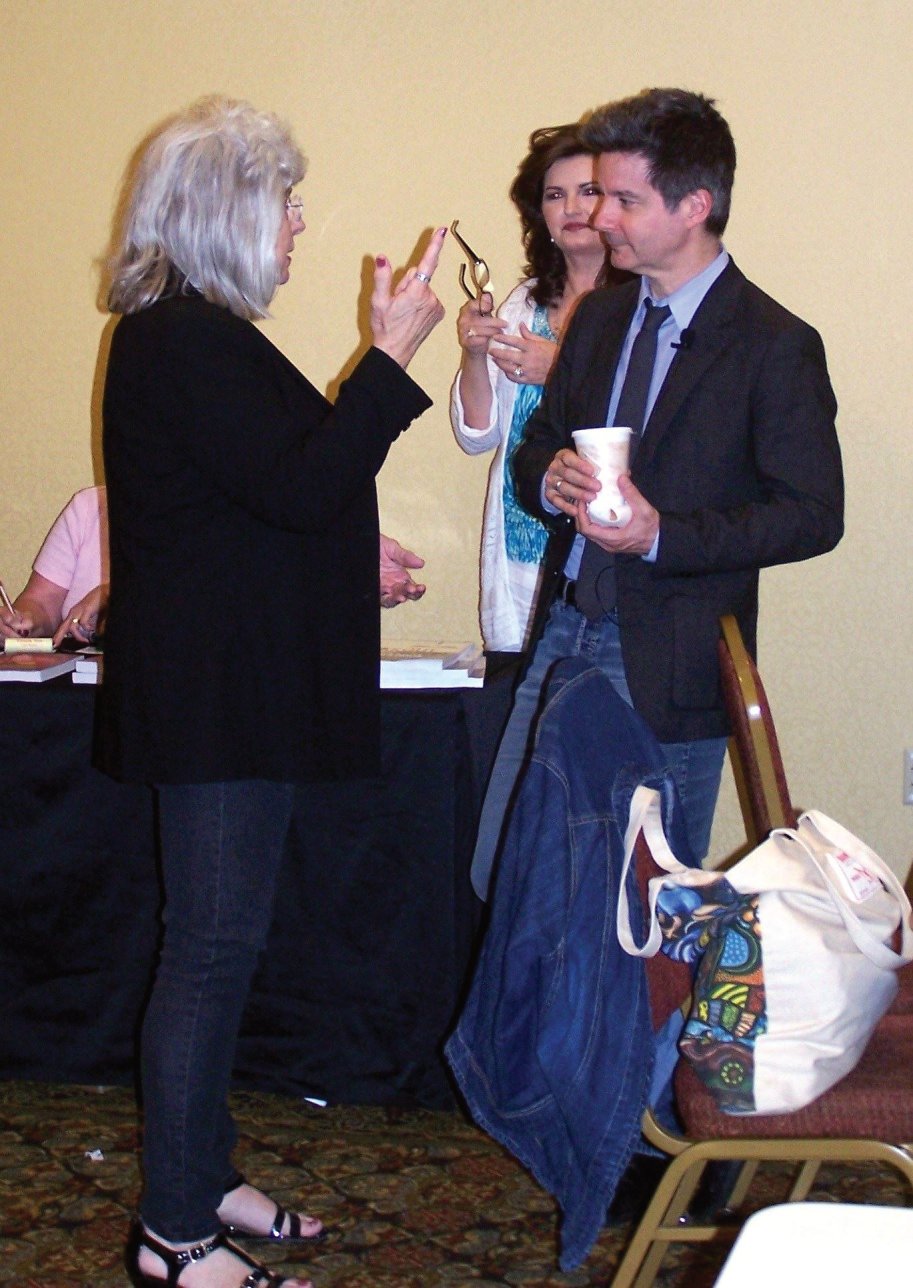 Afterwards, he signed books and talked to us individually.
A long workshop day was ended with dinner at
Mimi's Cafe
in Chesterfield.
I would highly recommend this workshop to anyone interested in honing their writing craft.

Can't wait for Friday evening when I get to have dinner with the
MORWA
group and Donald Maass. It should be a fun evening and a chance to network with other writers before attending the
Donald Maass
Fire In Fiction
Workshop on Saturday.
I've read the entire book and am ready to take notes, ask questions, and apply all that I've learned. I'll keep everyone updated on what happens. I think this is going to be an event well worth the price.

Write Time! Write Place! Write Now!
April 20, 21 & 22, 2012
Doubletree Hotel and Conference Center of St. Louis
16625 Swingley Ridge Road
Chesterfield, MO 63017
Tel: 1-636-532-5000

Claire Cook:
bestselling author of 8 novels, including
Must Love Dogs, Best Staged Plans, Seven Year Switch
, with a 9th,
Wallflower in Bloom
, to be published by Simon & Schuster Touchstone in June 2012
Christina Katz:
is the author of three books from Writer's Digest:
The Writer's Workout, Get Known Before the Book Deal,
and
Writer Mama
.
On Friday, February 3, I visited a new book store in St. Charles.
Sage Books
is located at 1128 North Second Street, St. Charles, MO in the historic Frenchtown District. You can contact her for directions at 636-352-0515.
The owner, Kayla Schneider, is a young book enthusiast and greeted customers as they entered the store. Open Mic Night featured writers from every level. Beginners, published authors, and award winners read for ten minutes each. The evening ended with refreshments, some visiting between writers, and of course, shopping! I'm a book junkie. How could I not make a purchase?

Every day, Kayla receives both new and used books and has a wide selection of topics and genres to choose from. I'm anxious to return, visit with Kayla and stock up on a few more titles.

I found this 3 +/- minute interview with Julia Castiglia. I think she does a good job explaining why some books are published and why others are not.
Bill Johnson
provides a 30 minute lecture on the premise that a story is a promise. It's good advice. I suggest listening to it.
Had a great day yesterday. I attended the Annual Friends of the Library Book Sale and came away with several First Editions for $2.00 each. I love books and I always look forward to this annual event. Tomorrow, you can fill a grocery bag with as many books as you can fit for $5.00!
Last night, one of my writer's groups met. We critiqued and enjoyed a short story, a non-fiction chapter summary of a book proposal, the near-beginning of a Sci-Fi hero's journey and the almost- conclusion of a paranormal young adult book.
Again, the diversity of what we are writing and the insight given is a constant source of amazement for me. All of us have queries out and queries responded to with differing levels of success however, none of us has had that breakthrough opportunity yet. Despite that, all of us are hopeful and believe it is just a matter of time and finding the right agent.
The work that comes from our group is well-written, has a message without being preachy and engages the reader from beginning to end. I can't wait for the public to have the opportunity to read what I've been privileged to be reading for the last year or so.
You are soooooo going to love it!

Since self-publishing has become a reality, many, many books are being published whether or not they or the public are ready. Authors driven by too many rejections from traditional publishers are sallying forth with a dream and a manuscript. Unfortunately, many return from their self-publishing encounter a little wiser, a little sadder and sometimes with a lot less pocket change than they started with. 
While every writer dreams of publishing a best seller and cashing those royalty checks, the reality of self-publishing loses some of its luster when actual numbers are crunched.
Victorine Writes breaks it down for all of us. Give it a click and let me know what you think of the numbers. Is it worth it to self-publish?
Sales Growth Over Time
I met with one of my old writing groups last night. There were familiar and new faces, each with a story to tell and a desire to improve his writing skills. Every time I attend a group meeting, I'm amazed by what I learn as well as the amount I learn in such a short time frame.
The diversity of writing within every group is as unique as a fingerprint or snowflake, and last night's group did not disappoint. We read, listened and critiqued a short story, a non-fiction book proposal, two novels and an idea for a screen play.
We explored dark comedy, apocalyptic sci-fi, time travel, an alternative customer service pedagogy, and a new twist on an old joke.
I always leave feeling creative and ready to write. For those reasons alone, it's worth attending the meeting. The fact that I get to learn something more is a bonus. I seriously suggest that anyone interested in writing should find a group with whom to share your work. You'll be astounded by your accelerated progress and the satisfaction it brings. 
/