Shopping Cart
Your Cart is Empty
There was an error with PayPal
Click here to try again
Thank you for your business!
You should be receiving an order confirmation from Paypal shortly.
Exit Shopping Cart
One of my short stories. "Kingdom of One" will be published in the October issue (#28) of The Caribbean Writer.
The Caribbean Writer (TCW
)--The Literary Gem of the Caribbean-- is an international, refereed, literary journal with a Caribbean focus, founded in 1986 and published annually by the University of the Virgin Islands.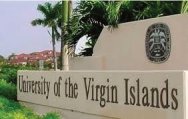 The 2014 edition of The Caribbean Writer, Volume 28, highlights Time, Place, and Memories, so "Kingdom of One" was a good fit.
I hope everyone who reads it will enjoy or at least, appreciate the story. Like most of my work, it's dark and leaves the reader questioning the distinction between right and wrong.

I can't wait to see what it look like in print! You can order a copy of Issue #28
here
. I hope that any and every one who reads it will send me some feedback. I would really like to hear your thoughts on it.
As an unexpected bonus, its publication in the journal puts me in the running for a literary award. It will be a year before the 2014 award winners are announced, but wouldn't it be great to get an award from a university located on one of my favorite islands?


Who wouldn't want to be here? I have fond memories of vacationing in St. Croix with my son when he was a child. We had such adventures there!
My next topic has to do with critiques. I take part in several critique groups and at times, I've walked away from them feeling as if I'm not getting serious feedback. Other times, I've come away feeling guilty that I've perhaps been too harsh with my comments.

Without construction, honest criticism, I don't see how my writing can get any better. How will I improve? Maybe, others aren't at the critiques to improve, but rather to have their works lauded. If that's the case, it's a game I don't play well.  I'm honest. Brutally honest. If that means saying, this piece needs a lot of work and here are some examples of what is wrong and some suggestions on how to make it better, then that's what I say.
Fortunately, I'm not the only one who believes this kind of honesty is the best policy. A writer whose work I admire and whose critiques I take to heart,
Harve
y Stanbrough
, has generously allowed me to lift a paragraph from one of his blog posts. Here goes:
Social Graces — Yeah, well, okay, I just don't have 'em, I guess. I keep getting emails telling me I should be more gentle with my criticism when other writers ask me to critique their work. Sorry, but I'm just not that guy. When someone tells you only what you want to hear, maybe on the surface it makes you feel good but you learn NOTHING. What's worse, you never know whether that person is telling you the truth about anything. What you get from me — but only if you ask — is the plain, unvarnished truth, good or bad. When I tell you something could be better, I'll try to explain how to fix it. Maybe best of all, when I pay your work a compliment, you'll know I mean it. The professional (or the aspirant who will become a professional) gladly suffers criticism in order to grow in the craft. The aspirant who would rather hear unearned praise than be afforded an opportunity to grow will never be a professional. It really is as simple as that.
On a personal note, I got to spend some time in Mexico this summer. I always have a great time when I'm there and this time was no exception. I got to experience my first deep sea fishing trip and came home a winner as you can see below.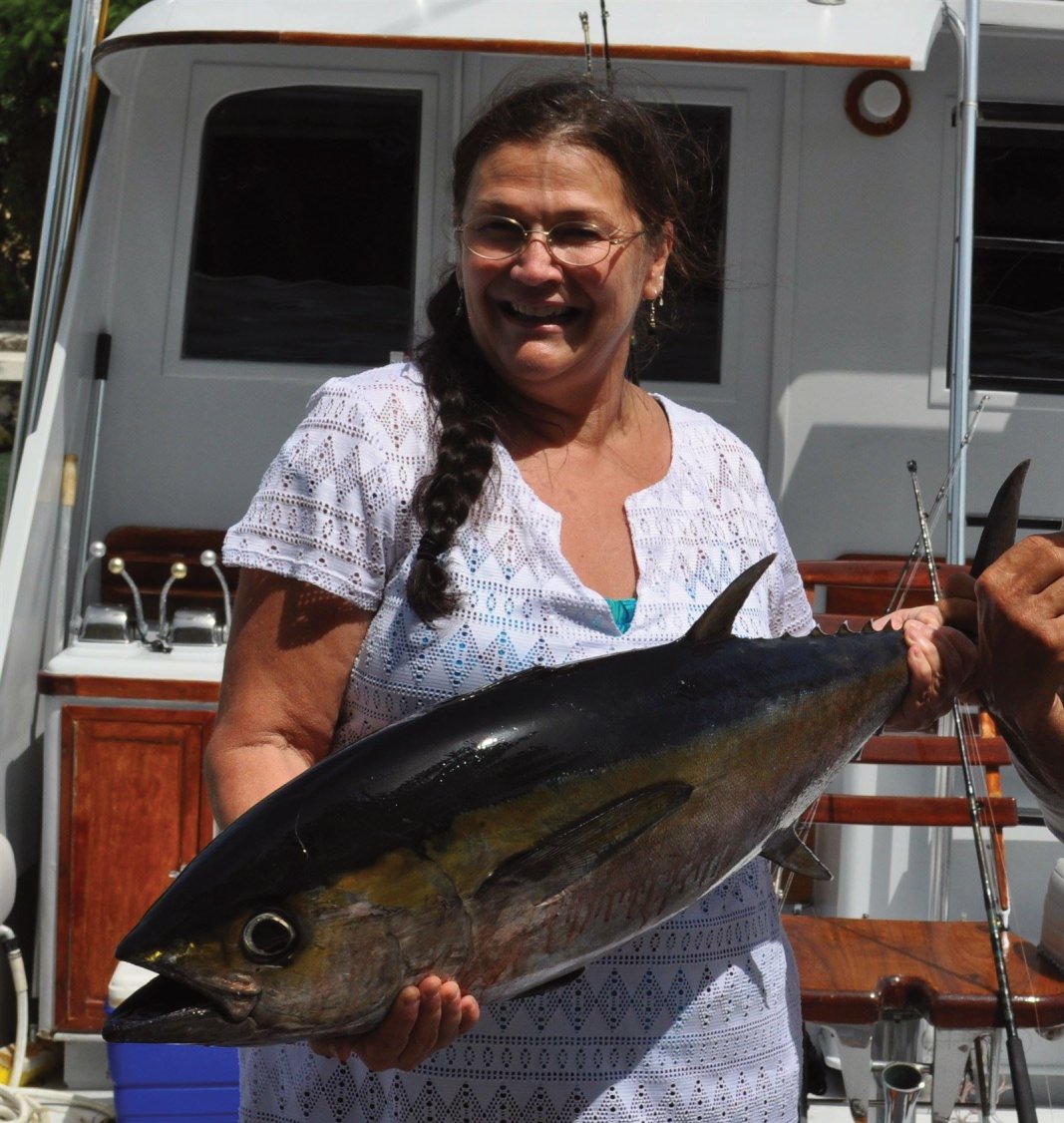 My catch-of-the-day was a 25 pound black fin tuna! Not bad for my first time.

Mundo cut it into steaks.                         The Chef cooked it for me!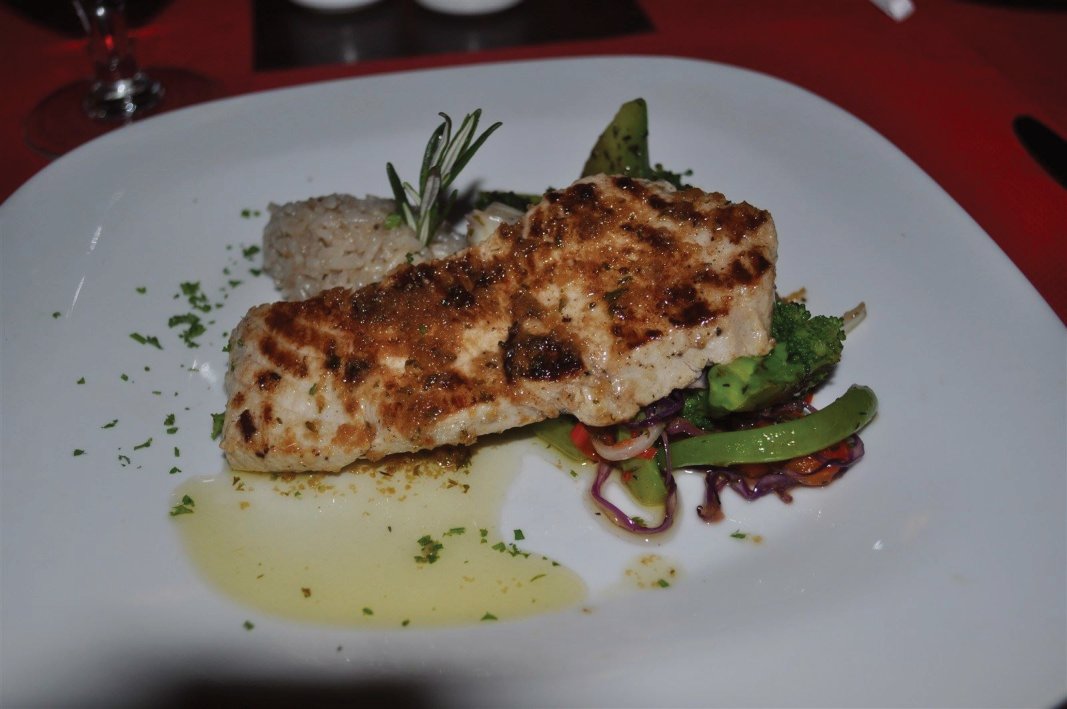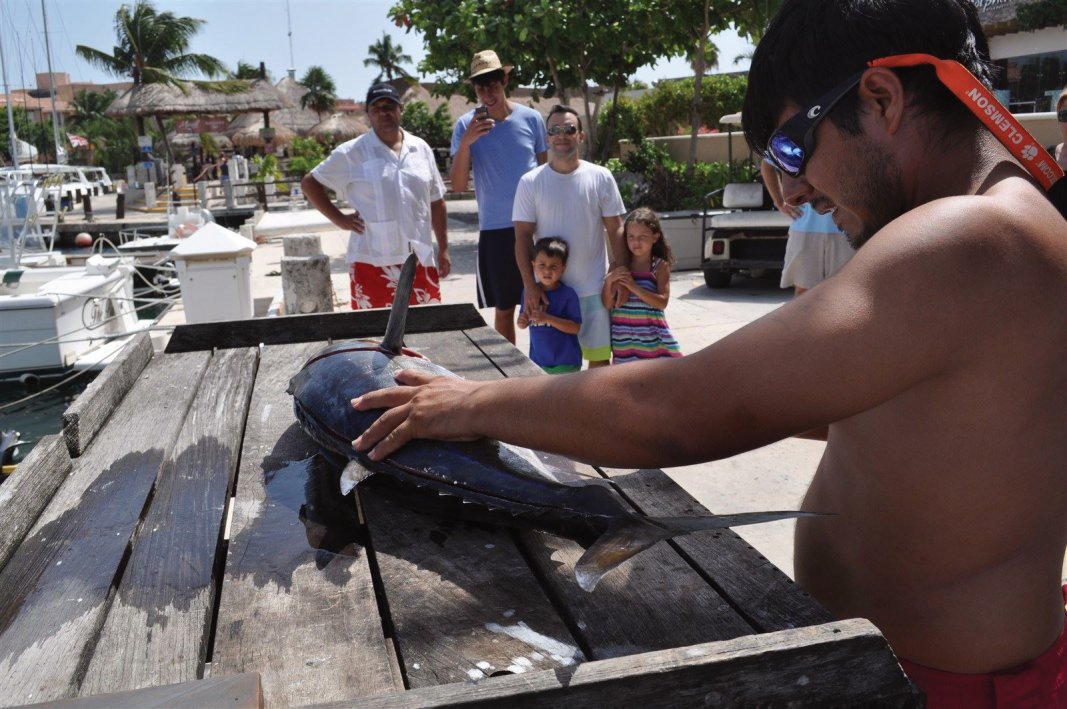 I also got the opportunity to swim with the dolphins. It's something that's been on my bucket list for several years, but just couldn't seem to make it work until now.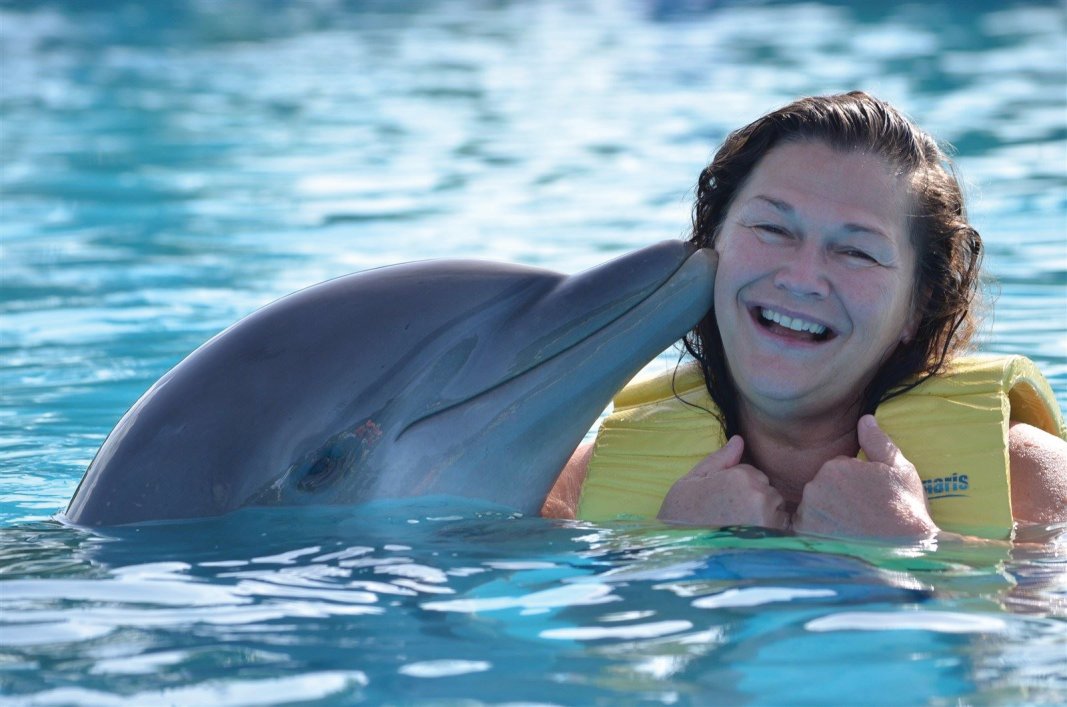 Me and Nautica. 
I strongly encourage you to swim with a dolphin if you ever get the chance. It was AMAZING!

On a final note, I'm off to see Gone Girl with my daughter. We've both read the book and are curious as to how well the movie is done.

It's easy to get discouraged when writing. Sometimes, that discouragement comes from a lack of recognition for what you've done. Other times, discouragement comes from a lack of support for what you're attempting to do. Some people see the desire to become a writer as a
pipe dream
. Some see it as a waste of time better spent doing something more concrete. Yet, the dream, the desire, the need to be a writer
is
overwhelming and
concrete
in the aspiring writer. For me, writing is as essential as breathing.
Yesterday was one of those days when I was discouraged. Not by people, but by events out of my control and memories of those events. Yesterday was the ninth anniversary of the death of someone I loved. The sadness always sneaks up on me despite my attempts to head it off. So yesterday I was broadsided with a sense of loss, a waterfall of tears, and a mental slideshow of memories from happier times that only seemed to emphasize what I don't have now.
Yesterday could have been a real bummer...
But, it wasn't.
In fact, yesterday turned out to be a great day. Why? Because of the people who love and care about me. My family, friends, and writer friends know that December 6th is difficult, so they came to my rescue. Individually and with no prompting other than a feeling they should call or stop by for a visit.

As a result, I went from down in the dumps to having a great, productive day.

Sadness in one area of your life can seep into other areas causing doubts and negative thoughts that generate more negativity until a person is sucked into the abyss of a depressive funk.
Thanks to the people who love me and showed me that love yesterday, I can face today with a much more positive attitude about everything. I look forward to get some writing done, both the necessary and the creative.

Writers tend to be a solitary sort, but that doesn't mean they don't need friends. I highly recommend finding similar writer types and forming a critique group that will improve your writing skills and in all likelihood become a group of friends that will be there for you when you need a boost.

Here's hoping that everyone had a great Easter. I know I did. I'm exhausted!
I did make it home in time to get my application in to the SLF Older Writers Grant. Made the deadline with only an hour or so to spare.

Here's an explanation of what it is (and yes, I stole this from their website):
The SLF Older Writers Grant is awarded annually to a writer who is fifty years of age or older at the time of grant application, and is intended to assist such writers who are just starting to work at a professional level. We are currently offering one $750 grant annually, to be used as the writer determines will best assist his or her work.
What a great idea to help out older writers who are starting/following their passions later in life. It's so easy to get sidetracked with work, children, spouses, and the day-to-day routines that before a person knows what happened, they've gone from 25 to 50.

Whoever wins the scholarship will appreciate it all the more for having waited so long to be eligible!
Wish me luck!

Great news! Last week we got the old writing gang together for lunch. While enjoying a meal at Bandana's BBQ, each of us expressed an interest in getting together for a critique group. Unfortunately, none of our schedules mesh.

Rather than give up, we've decided to try it via email. Each of us will send five to ten pages of a current work to the others. As each of us find time, we will read the work and write up our critique, suggestions, and comments about the writing in an effort for each of us to improve our writing skills.

Everything is done as "reply all" so that everyone knows what the others are saying and any points that need to be clarified can be.
Since we all write in different genres, we get a great cross section of the writing  world. So far, we've had a paranormal murder mystery and a mainstream novel with several unsettling aspects. Both are really good and I can't wait to read more. Next week, I'm anticipating an academic work from one of our writers.

I've been working on short stories, taking a break from my novel, Spared Parts. It's time to let that novel marinate and get some new eyes on these short stories.
This way we get feedback from people who are serious about writing and improving their skills. We still get to meet up for lunch when we can, and as always enjoy the company of future bestselling authors!

On Feb. 22 at Urban Eats, Outrageous Productions is excited to announce the launch of our first live literary podcast, "So..." Stories of Life Radio Show: 'Travel Diaries'
Come join us for an evening of remarkable (and remarkably funny) stories told - NOT read - by these extremely talented writers:
Mark L Berry is an airline pilot with an MFA from Fairfield University, contributing editor for Airways magazine, and former managing editor for Mason's Road literary journal. His novel, "Pushing Leaves Toward
s the Sun," features its own rock and roll soundtrack!
Tammy Setzer Denton is a contributing author to Six Word Memoirs of Love & Heartbreak published in February of 2009. Her short story, "Macchiato Memoirs" was selected as the story of the day at Every Day Fiction in April of 2012. She is currently a freelance writer and is working on her second novel, Spared Parts.

Simon Kaplan has recently moved back to the Midwest after living in the Bay Area for almost 20 years. Simon enjoys telling stories that have great humor and pathos; In addition to being a storyteller, he has worked as a director, actor, and playwright.

Adam Loomis is a young interdisciplinary artist from Minneapolis, Minnesota. His talents include writing, music composition, filmmaking, animation and other visual arts. His work often weaves themes of honesty, vulnerability, and open mindedness in with landscapes of dreams and myths.
Butch Lord is a twenty year veteran stand-up comedian who has been headlining comedy club across the country for nearly fifteen years. His stand-up shows are fast paced and high energy and his genuine enthusiasm for performing and his obvious passion for making people laugh shine through!
Supplying the background music that will set the tone for the night will be DJ L'Chemo, a very talented local spin jockey originally from San Andrés, Veracruz-Llave, Mexico who'll be spinning Spanish-influenced tunes that will make you want to book the next flight to Paradise!
"So..." literary podcast event will be recorded live and then re-broadcast and available for download on itunes.
Please join us for a lively evening of stories, live music and creative energy!
*"So..." is a live broadcast that may include adult themes and language intended for mature audiences.*

Urban Eats is a non-smoking cafe and art gallery which features great food and deserts, beverages and a friendly, hospitable staff.
Yesterday I blogged about a short story I'm writing that contains elements of Magic Realism. Since then, I've been bombarded by questions such as "Magic Realism? What do you mean by  that?"
Wikipedia defines Magic Realism as "a genre where magic elements are a natural part in an otherwise mundane, realistic environment."
Writing-World.com
provides a more in-depth definition. "Magical realism is not speculative and does not conduct thought experiments. Instead, it tells its stories from the perspective of people who live in our world and experience a different reality from the one we call objective. If there is a ghost in a story of magical realism, the ghost is not a fantasy element but a manifestation of the reality of people who believe in and have "real" experiences of ghosts. Magical realist fiction depicts the real world of people whose reality is different from ours. It's not a thought experiment. It's not speculation. Magical realism endeavors to show us the world through other eyes."
In my (as yet untitled) short story, one aspect of Magic Realism that is used is the physical manifestation of broken dreams. That's all I can tell you for now, but hope the above definitions will enlighten and intrigue you enough to continue following my blog so you'll be ready to read this short story when it's finished.

Been working on short stories today. One in particular is coming along really well. It contains elements of magic realism in an apocalyptic future. It comes complete with broken dreams and flawed characters with a few redeeming qualities.

It's important to make flawed characters. No one is perfect in real life so why would someone be perfect in fiction? Perhaps in fairy tales, but not in believable fiction.

In believable fiction, characters cannot be all good or all bad. Every good guy needs to have a little bad, and every bad guy needs to have a little good. Each needs a quirk or flaw to make him three dimensional.
So much going on! I received two new books; The Frugal Book Promoter by Carolyn Howard-Johnson and Sin and Syntax by Constance Hale. Both are so amazing I can't decide which to read first, so I'm reading both at the same time! I do a chapter from each and they try to apply the information from those chapters to my book writing life.

I met with other writers today and shared these books with them. They were impressed as well and will probably buy a few copies for themselves.

On a personal note, I have always been a major Jeopardy fan, and tonight I will be taking the Jeopardy online test. It's one of those things I've always said I would do and never did. 2013 is the year I will. It's another way of expanding my boundaries which is also a goal for 2013.

Wish me luck or at least a Daily Double!

Join me & other writer/storytellers at:
Urban Eats
3301 Meramec Street

East of South Grand in South St. Louis
February 22, 2013
7 to 9pm
A new literary podcast called "So..." is about to debut in front of a live audience at Urban Eats in Saint Louis.

The theme: 'Travel' (metaphoric or physical, 'horror stories of' or...)
A few weeks ago, I attended the Donald Maass Fire In Fiction Workshop sponsored by MoWRA and was highly impressed with their organization.

While at the workshop, several people invited me to attend a meeting and to check out their group.
This is an amazing group of serious writers. There are members at all levels of the writing game. Some have published more than 25 novels, others are still working on their first draft, and there are literally dozens whose accomplishments range somewhere in between.
I particularly enjoyed their "Grins and Groans" segment. This is where people are invited to share their successes and failures with the group at large. It was inspiring to hear their success stories and it was encouraging to hear of their near misses.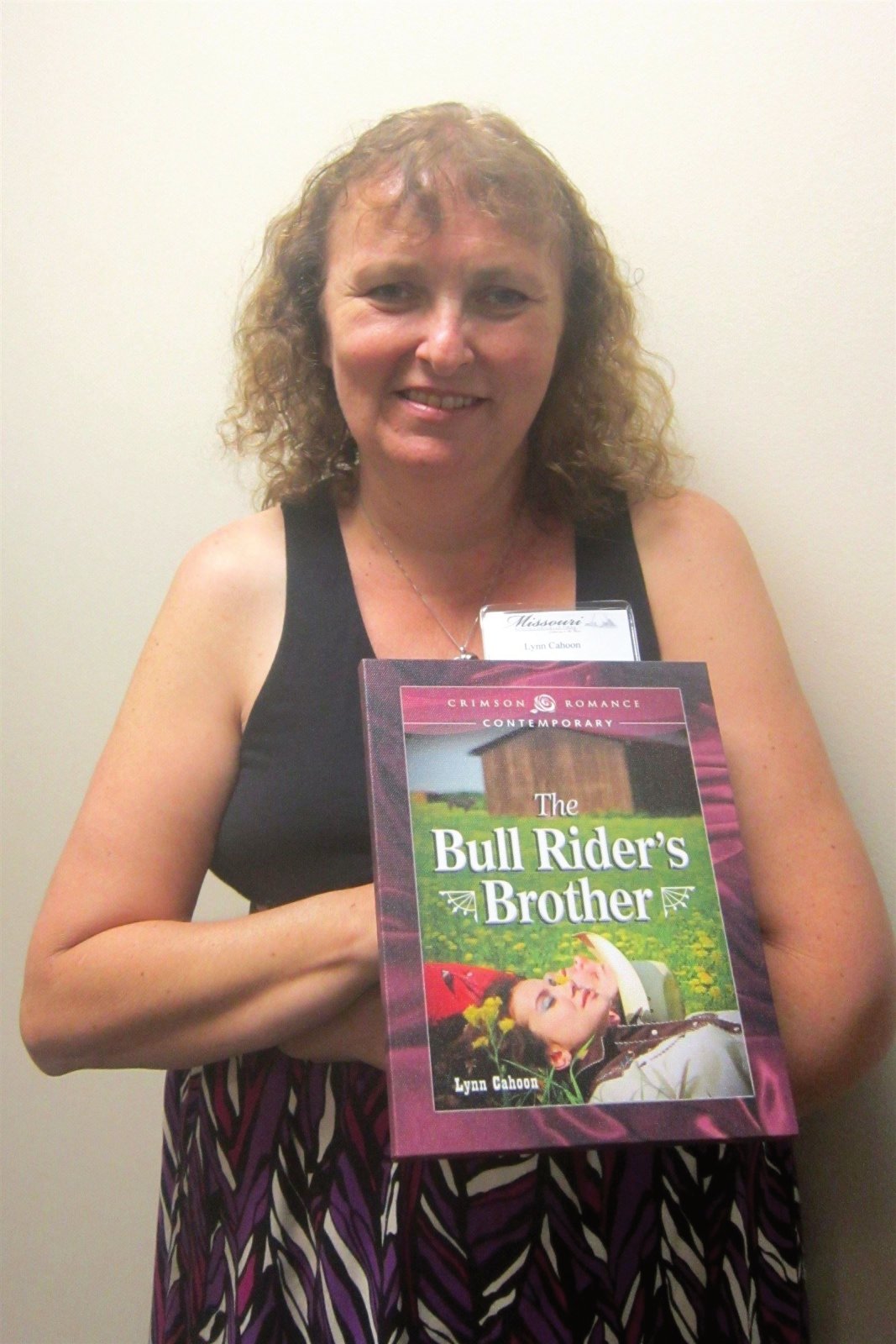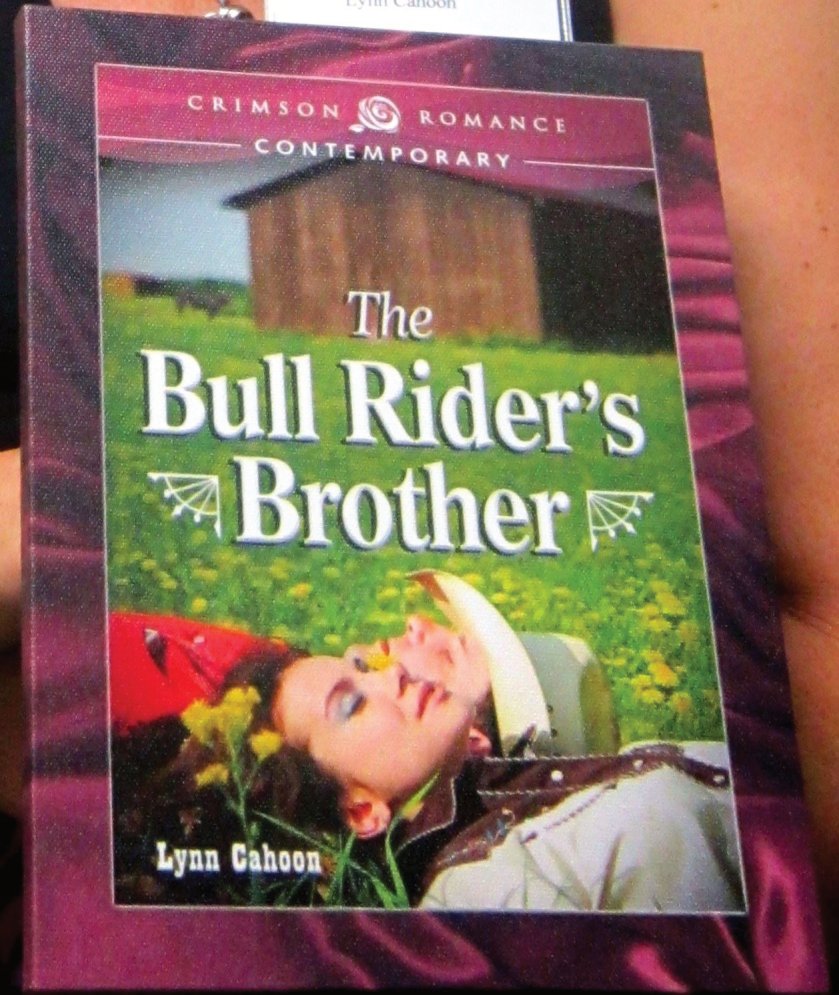 MoWRA really seems to value their members if Saturday's meeting was any indication.
could run circles around the competition!
I hope to attend another MoWRA meeting before making a decision to join. My only concern at this point has to do with my not writing romance. I feel like I could certainly learn from this group of professional, but wonder if I might not have a better fit with another group. Only time will tell.

/