Shopping Cart
Your Cart is Empty
There was an error with PayPal
Click here to try again
Thank you for your business!
You should be receiving an order confirmation from Paypal shortly.
Exit Shopping Cart
On Feb. 22 at Urban Eats, Outrageous Productions is excited to announce the launch of our first live literary podcast, "So..." Stories of Life Radio Show: 'Travel Diaries'
Come join us for an evening of remarkable (and remarkably funny) stories told - NOT read - by these extremely talented writers:
Mark L Berry is an airline pilot with an MFA from Fairfield University, contributing editor for Airways magazine, and former managing editor for Mason's Road literary journal. His novel, "Pushing Leaves Toward
s the Sun," features its own rock and roll soundtrack!
Tammy Setzer Denton is a contributing author to Six Word Memoirs of Love & Heartbreak published in February of 2009. Her short story, "Macchiato Memoirs" was selected as the story of the day at Every Day Fiction in April of 2012. She is currently a freelance writer and is working on her second novel, Spared Parts.

Simon Kaplan has recently moved back to the Midwest after living in the Bay Area for almost 20 years. Simon enjoys telling stories that have great humor and pathos; In addition to being a storyteller, he has worked as a director, actor, and playwright.

Adam Loomis is a young interdisciplinary artist from Minneapolis, Minnesota. His talents include writing, music composition, filmmaking, animation and other visual arts. His work often weaves themes of honesty, vulnerability, and open mindedness in with landscapes of dreams and myths.
Butch Lord is a twenty year veteran stand-up comedian who has been headlining comedy club across the country for nearly fifteen years. His stand-up shows are fast paced and high energy and his genuine enthusiasm for performing and his obvious passion for making people laugh shine through!
Supplying the background music that will set the tone for the night will be DJ L'Chemo, a very talented local spin jockey originally from San Andrés, Veracruz-Llave, Mexico who'll be spinning Spanish-influenced tunes that will make you want to book the next flight to Paradise!
"So..." literary podcast event will be recorded live and then re-broadcast and available for download on itunes.
Please join us for a lively evening of stories, live music and creative energy!
*"So..." is a live broadcast that may include adult themes and language intended for mature audiences.*

Urban Eats is a non-smoking cafe and art gallery which features great food and deserts, beverages and a friendly, hospitable staff.
Join me & other writer/storytellers at:
Urban Eats
3301 Meramec Street

East of South Grand in South St. Louis
February 22, 2013
7 to 9pm
A new literary podcast called "So..." is about to debut in front of a live audience at Urban Eats in Saint Louis.

The theme: 'Travel' (metaphoric or physical, 'horror stories of' or...)
He thinks quite highly of her talent as do I, but I don't have quite the same clout he does. Apparently, many many others enjoy her work as well as Hearse and Buggy is already in its second printing run in only 4 days!
Laura also writes stand-alone romances for Harlequin American Romance under the name of Laura Bradford.  Her 4th book with Harlequin will be available in October 2012.
Many of her books are available in paperback and e-book formats.
Needless to say, Laura is one busy person. However, she always makes a point to visit with her St. Charles friends.  This time she spoke and did a book signing  at both the Kirkwood Public Library in Kirkwood and the McClay Library Branch in St. Charles on Thursday, June 7.
Her fan base continues to grow and her readers get younger and younger.
The catalog for the Iowa Summer Writing Festival arrived today. I felt like a kid with a Christmas catalog! I carefully went through each page, selecting classes, investigating instructors and trying to match my free time and available money with what they offered.

This writing festival is in its 26th year in Iowa City, Iowa. During June and July, writers of all levels come together to teach and learn through week long or week-end long workshops.
Anyone who's been writing for any length of time knows how prestigious the MFA program at the U of  I is. However, not everyone has the time or money to invest in the full degree. The Summer Writing Festival is a great way to get a sampling of their program, especially if you can time it to coincide with the Book Festival.

On Friday, February 3, I visited a new book store in St. Charles.
Sage Books
is located at 1128 North Second Street, St. Charles, MO in the historic Frenchtown District. You can contact her for directions at 636-352-0515.
The owner, Kayla Schneider, is a young book enthusiast and greeted customers as they entered the store. Open Mic Night featured writers from every level. Beginners, published authors, and award winners read for ten minutes each. The evening ended with refreshments, some visiting between writers, and of course, shopping! I'm a book junkie. How could I not make a purchase?

Every day, Kayla receives both new and used books and has a wide selection of topics and genres to choose from. I'm anxious to return, visit with Kayla and stock up on a few more titles.

Unbridled Book
s ran a sale last week offering 25 of their books in e-form for $0.25 each. I like Unbridled Books so I bought them all, making my purchase from
Subterranean Books
, one of my favorite Indie book stores in St. Louis.
While I'm not a fan of the e-book format, for 25 cents, I thought I could tough if out in front of the computer to read them. I was wrong. After an hour or two, I was in pain from reading through bifocals at my desktop.
I really wanted to read these books, but not in front of my computer. This brought me to the proposition of getting an e-reader. I have an MP3 player that includes an e-reader albeit the screen is approximately 1" x 1.5". I was at least going to give it a try. Unfortunately, I couldn't get it to load even one book, much less the 25 I had purchased.
Then, I got my
Big Lots
ad. There it was-a 7" Slick e-Reader on sale for nearly 45% off. I've always sworn I wouldn't get one. I like actual books, the feel of the cover, the paper, the bindings, the end pages. Okay, you get the picture. I'm a major book nerd. But, I
really
wanted to read my new books from Unbridled so I swallowed my words and purchased the e-Reader.
I charged it up, downloaded two of the 25 books and started reading. So far, I was impressed. The backlit screen made a reading light unnecessary. I still caught myself touching the upper right hand corner in an attempt to turn pages, but I liked the bookmark feature and the ability to change font size.

For my first e-book, I chose Panopticon by David Bajo. 313 pages of literary intrigue with Spanish thrown in here and there. I was in heaven................until the battery died. I was on page 287 with only 26 pages to go. I know I could have plugged in to finish it, but I didn't. I put it on the charger and picked up a real book instead. I had to turn the light on to read it, but Sand & Foam by Kahlil Gibran rested in my hands with a soothing weight and feel. The words glowed from the page fueled by wisdom, not electricity. I finished Sand & Foam and fell into pleasant dreams .
This morning, my e-Reader was recharged. I finished the last 26 pages of Panopticon. It was a good read that left me thinking of Big Brother and whoever else might be watching, but got to say that my earlier power failure took away from the suspenseful end.

I'm not giving up on the reader. I have 30 days to try it out and return it if I don't like it. I'm still undecided, but plan to use my Unbridled Books for the challenge.

Overall, I would recommend reading Panopticon by David Bajo. 
This Overview Is From Amazon:
As the California borderland newspaper where they work prepares to close, three reporters are oddly given assignments to return to stories they ve covered before each one surprisingly personal. The first assignment takes reporter Aaron Klinsman and photographer Rita Valdez to an abandoned motel room where the mirrors are draped with towels, bits of black tape cover the doorknobs, and the perfect trace of a woman s body is imprinted on the bed sheets. From this sexually charged beginning on land his family used to own Klinsman, Rita, and their colleague, Oscar Medem understand that they are supposed to uncover something. They just don t know what. Following the moonlit paths their assignments reveal through the bars, factories and complex streets of Tijuana and Otay, haunted by the femicides that have spread westward from Juarez, the reporters become more intimately entwined. Tracing the images they uncover, and those they cause and leave behind, they soon realize that every move they make is under surveillance. Beyond this, it seems their private lives and even their memories are being reconstructed by others. Panopticon is a novel of dreamlike appearances and almost supernatural memories, a world of hidden watchers that evokes the dark recognition of just how little we can protect even our most private moments. It is a shadowy, erotic novel only slightly speculative that opens into the world we all now occupy.
Had a great day yesterday. I attended the Annual Friends of the Library Book Sale and came away with several First Editions for $2.00 each. I love books and I always look forward to this annual event. Tomorrow, you can fill a grocery bag with as many books as you can fit for $5.00!
Last night, one of my writer's groups met. We critiqued and enjoyed a short story, a non-fiction chapter summary of a book proposal, the near-beginning of a Sci-Fi hero's journey and the almost- conclusion of a paranormal young adult book.
Again, the diversity of what we are writing and the insight given is a constant source of amazement for me. All of us have queries out and queries responded to with differing levels of success however, none of us has had that breakthrough opportunity yet. Despite that, all of us are hopeful and believe it is just a matter of time and finding the right agent.
The work that comes from our group is well-written, has a message without being preachy and engages the reader from beginning to end. I can't wait for the public to have the opportunity to read what I've been privileged to be reading for the last year or so.
You are soooooo going to love it!

The Book House in St. Louis off of Manchester is one of my faves. Not only does it have thousands and thousands of books, it also has a ghost. They are also having a giant book sale over Memorial Weekend.

Check it out.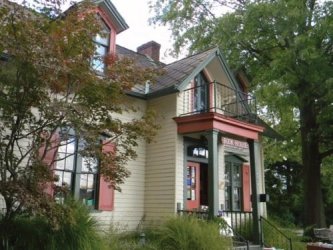 0

/