Shopping Cart
Your Cart is Empty
There was an error with PayPal
Click here to try again
Thank you for your business!
You should be receiving an order confirmation from Paypal shortly.
Exit Shopping Cart
Here's the list. Did you read any of the same books I did? If so, what's your opinion of them? Let's discuss.
2016 Reading List
1.      Dead Witch Walking by Kim Harrison
2.      The Good, the Bad, and the Undead by Kim Harrison
3.      Every Which Way But Dead by Kim Harrison
4.      A Fistful of Charms by Kim Harrison
5.      For a Few Demons More by Kim Harrison
6.      The Outlaw Demon Wails by Kim Harrison
7.      White Witch, Black Curse by Kim Harrison
8.      Black Magic Sanction by Kim Harrison
9.      Pale Demon by Kim Harrison
10.  A Perfect Blood by Kim Harrison
11.  Ever After by Kim Harrison
12.  The Undead Pool by Kim Harrison
13.  The Witch With No Name by Kim Harrison
14.  Into the Woods by Kim Harrison
15.  Rebecca's Tale by Sally Beauman
16.  The Historian by Elizabeth Kostova
17.  The Revenant by Michael Punke
18.  The Weird Sisters by Eleanor Brown
19.  My Sister Lives on the Mantelpiece by Annabel Pitcher
20.  The Summerhouse by Jude Devereaux
21.  The Library at Mount Char by Scott Hawkins
22.  A Head Full of Ghosts by Paul Tremblay
23.  That Special Grace by Benjamin Bradlee
24.  Sapogonia by Ana Castillo
25.  A Scattering of Bones by Lesann Berry
26.  Tomato Red by Daniel Woodrell
27.  Freud's Sister by Goce Smilevski
28.  Can't Wait to Get to Heaven by Fannie Flagg
29.  The Short Reign of Pippin IV by John Steinbeck
30.  The Tenth Gift by Jane Johnson
31.  Harry Potter and the Cursed Child by J.K. Rowling
32.  Jumping Through Fires by David Nasser
33.  Swan Thieves by Elizabeth Kostova
34.  Creepers by David Morrell
35.  The Maid's Version by Daniel Woodrell
36.  The Twenty-Seventh City by Jonathan Franzen
37.  The Little Paris Bookshop by Nina George
As you can see, the first fourteen books of 2016 were a paranormal series. This is not a common genre for me, but Kim Harrison made the series appealing and a little bit addictive.

I love works that are well-written and send me to the dictionary, and I found that to be the case in Rebecca's Tale by Sally Beauman. This is a sequel to Rebecca by Daphne du Maurier.  Question: Can I call it a sequel if it's not written by the original author? Would the change in author make it Fan Fiction?

The Historian by Elizabeth Kostova sent me to a world map which is equally enjoyable. This novel would be great for a literary road trip.
I found The Revenant by Michael Punke to be somewhat disappointing. I did not see the movie so my opinion is based solely upon the reading. I did use this novel to show some students how the storyline changes based upon the writer's audience. The original story came from a Philadelphia journal article written in 1825 by a lawyer. While Hugh Glass did exist, and was mauled by a bear and left for dead in 1823, the tale has never been told without some fictionalization. The book by Punke is very different from the first account of the story, and the hollywoodized adaptation found in the movie is very different from Punke's version. It made for a good teaching moment, but I didn't find the novel to be a compelling read.
The Weird Sisters was an interesting read, but not nearly as interesting as the title suggests.
Two novels by Daniel Woodrell, Tomato Red and The Maid's Version, made it on to my reading list, in part, because his stories take place in the Ozark Mountains. Each time I read one of his works, I become more and more grateful that I did not grow up in the area he mines as his writing muse. I like how he juxtaposes the beauty of the region with the ugly actions of the people who populated it then and now. It's harsh and lovely at the same time.
I rarely (if ever) read romance, but when I do I turn to Jude Devereaux. Within a few chapters, her novel, The Summerhouse, struck me as more chick lit than romance. I enjoyed the concept of "What if I had it to do all over again?", and the way she handled the braided storyline of three women who share the same birthday, and met for a single day in the past. Their long weekend together in the present touches base on regrets for lives not lived.

The Library at Mount Char started wonderfully, but left me wanting in the end.

A Head Full of Ghosts by Paul Tremblay was advertised as the book that frightened Stephen King. After reading it, I would like to think that Stephen King is made of sterner stuff. I didn't find it frightening--somewhat interesting, but definitely not frightening.
Lesann Berry proved to be an engaging writer. Her novel, A Scattering of Bones, was well-written and sent me to the dictionary a few times. I will probably watch for another release from her to see if she can maintain the same quality of writing throughout this series. So far, I'm impressed.

Freud's Sister only solidified my belief that Freud was in desperate need of a therapist.
Can't Wait to Get to Heaven by Fanny Flagg was reminiscent of It's a Wonderful Life, and made for a pleasant and reaffirming read.
I found Harry Potter and the Cursed Child by J.K. Rowling to be an okay read despite the moans and groans from her Harry Potter fan base about the stage play script formatting. I'm beginning to wonder if Rowling will ever be able to write anything outside the Potter series or in any other style with success--not due to a lack of talent, but rather a lack of tolerance by her diehard Potter fans.
The Twenty-Seventh City, the first novel written by Jonathan Franzen, was more attention grabbing for its location rather than for the plot or characterization.

Last on the list is The Little Paris Bookshop by Nina George. I read this book based on the reviews it received from Amazon readers. At first, I couldn't get into the story. I'd read a few paragraphs, then put it down, and wander off. I had to force myself back to it on multiple occasions. I couldn't believe that so many people could have been that wrong about it. What did they read or see in it that I didn't? It wasn't until nearly two thirds of the way through that the story finally clicked for me. At that point, I couldn't put it down.

If you read any of the works on my 2016 Reading List, I would love to hear from you. What was your take on these novels? Will we agree or disagree?

Until then.

This is my reading list from 2013. I didn't count short stories unless I read the entire anthology. I also did not include WIPs from my writer's groups nor the manuscripts that I read for a small publishing company. Last of all, I didn't include a great many e-books because I lost track of them.

You'll notice that if I like an author I tended to read several works by that author. I also discovered three new authors (new to me) in 2013. One is
Lesann Berry
. Another is
Danny King
. The last author which I discovered just before Christmas is
Robin Sloan
. I recommend all three for very different reasons.
I also revisited some classics such as The Great Gatsby and Fahrenheit 451.
What did you read in 2013?

2013 Reading List 
1. A Cure for Dreams by Kaye Gibbons

2. Divining Women by Kaye Gibbons

3. The Unstrung Harp by Edward Gorey

4. Sights Unseen by Kaye Gibbons

5.  A Funny Thing Happened on the Way to the Future… by Michael J. Fox

6.  Flight to Avoid by Larry Long
7.  Minority Report by Philip K. Dick

8.  The Stranger and Other Stories by Glen Robinson

9.  Little Bee by Chris Cleave

10. Wild Child by T.C. Boyle

11.  Eden by Olympia Vernon

12.  The Creator's Map by Emilio Calderón

13.  The Illustrated Man by Ray Bradbury

14.  Green Lake by S.K. Epperson

15.  Toy Cemetery by William W. Johnstone

16.  German for Travelers: A Novel in 95 Lessons by Norah Labiner 17.  Kinderlager: An Oral History of Young Holocaust Survivors by Milton J. Nieuwsma

18.  The Shoemaker's Wife by Adriana Trigiani

19. The Psychopath Test by Jon Ronson

20. Alternate Realities by Lesann Berry

21. Passing Judgment by Lesann Berry

22. The Vitae by Lesann Berry

23. The Henchman's Book Club by Danny King

24. On The Pulse of Morning by Maya Angelou

25. Drowning Ruth by Christina Schwarz

26. The Everafter by Amy Huntley

27. The Map of True Places by Brunonia Barry

28. Haunted Tales of the Grotesque by Joyce Carol Oates

29. The Box by Gunter Grass

30. The Book of Lies by Brad Meltzer

31. The Heroines by Eileen Favorite
32. The Coffins of Little Hope by Timothy Schaffert

33. The Great Gatsby by F. Scott Fitzgerald

34. And the Mountains Echoed by Khaled Hosseini

35. The Man in the Picture by Susan Hill

36.  Mr. Penumbra's 24-Hour Bookstore by Robin Sloan

37.  Ernest Hemingway on Writing Edited by Larry W. Phillips

38.  Dangerous Alterations by Elizabeth Lynn Casey          
Below you'll find the review I posted on both
Goodreads
and
Amazon
for Mr. Penumbra's 24-Hour Bookstore.
Love, love, LOVE this book! I've
tweeted
, Facebooked, emailed,
blogged
, and reviewed this book. If I do anything more, author
Robin Sloan
is going to have to put me on the payroll!
I rarely get this excited about a book, but Mr. Penumbra's really resonated with the bibliophile in me. This debut novel abounds with quirky, intelligent characters on a quest. I truly adored Ms. Lapin! How could I not? She is me and I am her.
Rarely do technology and literature met and mesh. Just think about
the ongoing debate over e-books
. However, if technology and literature had a love child, this would be it. Even the cover glows in the dark!
From first to final page, the reader becomes part of a journey that he/she may not always understand (I'm not that technologically advanced.), but is always willing to follow. There are parts that are more bookish and in those sections, I felt like I was leading, guiding the others along the way. From Google headquarters to age-old libraries, Sloan blends the old with the new, and makes it work.
The truth he reveals/exposes is one you may have heard and forgotten. If it's your first time to see it, then enjoy and drink deeply of it.
I HIGHLY recommend this book to anyone who loves books, reading, technology, architecture, mystery, secret societies, libraries, independent book stores, gaming, and magic realism. Did I leave anyone out? In other words, this book is for everyone.
Buy it, read it, enjoy it, sleep with it under your pillow to inspire good dreams.

I love when I get the opportunity to discover new talent. Okay, maybe I didn't discover them, but I did just recently find them.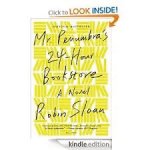 Mr. Penumbra's is a book lover's dream, a bibliophile's paradise. It references other books, drops hints and clues to an even greater book loving group while incorporating quirky characters (I
am
Ms. Lapin.), the Google campus, art, bookstores, and a quest. How can anything get any better than that? Don't just take my word for it, check out the
reviews and comments on Good Reads
. The book also glows in the dark! There's
nothing
I don't like about this book!
I would highly recommend this book to anyone who loves books or loves reading books (and yes, there is a difference).

I personally love books on so many levels. From reading to the way they are made, the quality of paper, the illustrations, type setting, the endpapers, and so much more.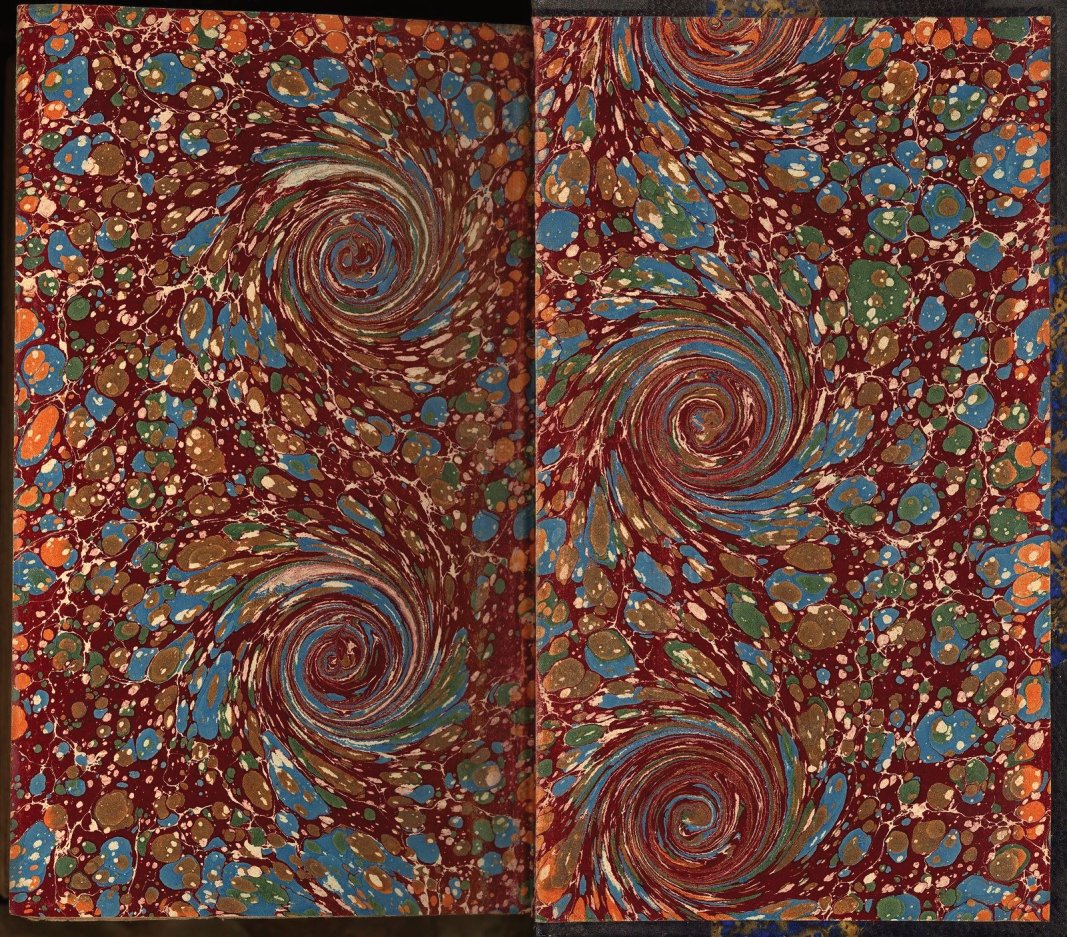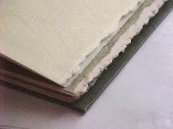 orgasmic--almost!
I love to hold a used, but well-loved book in my hands and imagine all the other hands who've held it before me, all the other eyes that have read the words, the fingers that have traced a particularly intriguing line. A book with a well-broken in spine shows the love given it when it was first purchased. A book losing its pages shows me that it wasn't taken care of properly by someone who either didn't know or (dare I think it?) didn't care.
What was your favorite book of 2013?

P.S. I have another previously undiscovered talent that I hope to bring to you in 2014. This one is totally my discovery, and doesn't have to do with books, but will captivate and fascinate you in addition to leaving you in awe of his talent.
Torture, isn't it?
I follow
Nathan Bransford's blog
and have for several years. He's an ex literary agent turned author, and all around informative guy with a huge and active following.
Over the years, he has ranted and raved over his favorite book,
The Great Gatsby
. He, on occasion, includes quotes from the book which have never impressed me, and I didn't quite understand the appeal. I figured it was just a case of personal taste.
Last week, I picked up a copy of
Gatsby
at
Goodwill
(one of my all-time favorite bookstores). At fifty cents, I didn't think I could go wrong even if I hated it and ended up donating it back.
I started reading it the same evening and much to my surprise I loved it! I didn't put it down until the wee hours of the morning when I finished!
I want to apologize to Nathan for doubting his taste. It's a great story, beautifully written, with layer upon layer of social commentary and observations of human nature. It's a love story, a story of obsession, gain, and loss, and ultimately, what is truly important in life.

Below is my apology to Nathan which I sent to his blog.

Dear Nathan,
I want to formally apologize to you for ever doubting your taste in books.
I've followed your blog for years and have always questioned your belief that The Great Gatsby is a fantastic novel. Even when I read the various Gatsby quotes you've posted, I was unmoved.
I recently picked up a copy, and I must admit that I've been wrong. While I won't say that it's my favorite book, it is in the top 10. I read it through in one night, unable to put it down.
I'm also posting a link to this apology on my website so my followers can see me eat humble pie.
Sincerely and apologetically,
Tammy Setzer Denton
I think it's important to admit when you're wrong, and in this case, I certainly was. The takeaway from this is not to limit yourself with
preconceived notions
. I missed out for years because I was wrong. Don't let the same happen to you, and guess what? It doesn't just apply to books. Now, I have to re-evaluate all the things I've avoided over the years for a variety of reasons. It may be just the day/week/month/year to give them a try!
Let me know what you've been avoiding.

I had originally planned a lengthy post since it's been a while since I've written. However, my plans changed when a friend sent me a link to Martin Manley's website via Facebook.
Until today I'd never heard of him, but I wish I had. Martin Manley committed suicide today.  
Manley orchestrated his own demise, the distribution of his few remaining possessions, the discovery of his body, and left a suicide note that exceeds all expectations. Whether or not his note provides reasons good enough to justify his death is unlikely as he mentions himself.
Part of me wonders if this is not an elaborate hoax, a way to gain notoriety for a struggling writer. Not that he was a writer in life, but will certainly be considered one in death providing that he's really dead.
There are two sections to his site; death and life. I read all the death part first (human nature wants to see the train wreck and carnage) and found it all very logical. Too logical and perhaps, a bit premature. He makes his points, but none of them scream, "Shoot me!".
I'm only part way through his memoirs, if they can be called that. His childhood recollections seem aloof and dispassionate, possibly the result of his existence in a family he didn't think was normal.  All in all, I don't see where he's had a horrific life, but rather an ordinary one like most of us.
I'm still at a loss for words as to how to describe my feelings about this. I guess I thought of suicide as a desperate act by an emotionally charged person. Martin Manley's suicide was not. I'm somewhat disturbed that he wanted to leave a mark on the world, but felt he couldn't do so without dying. Is that really necessary? Instead of a mark, has he left a stain?
I'd love to hear your thoughts and opinions on this. Read his blog if you will and get back to me. I'll be reading it as well.     
Last night, I finished my freelance articles for June with three hours to spare. I wrote 10,000 words for other people and only 350 words for me.  However, they were 350 words of pure pleasure, and freelancing pays the bills so I can afford to write.
I will continue to use the
Pomodoro Technique
which I wrote about in my last post. Setting aside a specific amount of time and writing against the clock/alarm/timer seems to work for me.  The hardest part was remembering where I had left off in my second novel,
Spared Parts
. I will be rereading what I have and checking my notes to refresh my memory. Another bonus is that my China connection is back in the US so I can pick her brain.
On a completely unrelated note, I'm putting my house up for sale and will hopefully move into a condo no later than early fall. It's an emotional roller coaster as I've lived in my home for 28 years. I love it, my neighbors, and my neighborhood, but the outside maintenance is killing me and stealing my creative time.
Moving will be another short-term factor that will take away from my writing, but it will not last forever (although I'm sure it will seem that way).  Anyone with moving tips, send them my way. I think I've forgotten all that I knew about the process.
I would also like to encourage readers to check out
Alternate Endings
by
Lesann Berry
. If you're into sci-fi and like the style of Ray Bradbury, many of her short stories in this anthology really reminded me of his work. It's available at
Amazon
.
P.S. I have no idea why some words are highlighted and underlined in red. It's a glitch.

I'm playing some serious catch up from having bronchitis and other health issues. In addition, my first version of this post, crashed and is now somewhere in cyberspace.
After wallowing in a pity pot for being ill and getting behind, Carol Tice's post.
I also want to recommend Book Bub to anyone who hasn't tried it. I've been downloading the freebies searching for new authors. In some ways, it's like reading through a slush pile as many of the freebies are self-published and I'm coming to the opinion that most are published too soon. More on that in a later post as I will review some of the books I've read.
Event for
June 04, 2013    12:18AM
June 23, 2013    11:59PM
Global
Lesann's book, ALTERNATE ENDINGS, is featured at Story Cartel this month. You can download this book for FREE. Read this collection of speculative fiction short stories in exchange for an honest review. Available in multiple formats-so tell a friend and check out some alternative history!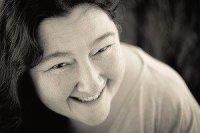 Also check out

It will be weird. You've been warned.

Barbara Poelle
with the
Irene Goodman Agency
did a guest column at
Writer's Digest
on April 4, 2013.
The column titled:
is possibly the funniest agent interview ever.  I've re-posted a portion of the column, and you can read the entire article
here
.
Once you've read all of it, you can check out my comments
here
.
Trust me, you're going to love this.

Dear Agent:  What do you really think of speed-pitching events at conferences? Do you secretly hate them? And how many of your new authors do you find at writing conferences, versus the slush pile, versus other methods?



Well, let's see. Here are some things that have happened to me at speed-dating-style pitch sessions:
• After I said I would not be interested in looking at a man's poetry collection, he said he would kill himself—and the police had to be called.
•  An octogenarian and his wife pitched his mystery and she mouthed his memorized pitch next to him the whole time he talked, and then clapped and cried when he was done—and I had to sit there knowing from the start that a 42,000-word World War II mystery (which is far too short to be viable, for starters) was something I was for sure about to say no to. To this octogenarian's life dream. In front of his lifelong soul mate. Thank goodness the bar was within sprinting distance.
• A woman sat down across from me and opened with, "Jesus already told me you would be my agent, so I'm not nervous at all." I said, "That's weird, when we had coffee the other day, he didn't mention you." And then I chuckled. She did not. And then my bladder loosened a bit in fear.
In the end, I very much like talking to authors at conferences, but I wouldn't buy a car from a guy who just tells me about it; I need to see how she rides. So these days, when I'm invited to participate in pitch sessions at writing events I attend, I decline, but instead offer to take a look, in advance, at 10 pages of the manuscript from each author who wished to pitch me, and to leave a detailed critique for each one at the registration desk. I realize not every agent (maybe not any other agent) favors this approach, but in my case, I feel that this is more helpful for the writers, and better suited for my evaluation style, too. If I want to meet with someone, I leave a note and we connect.

Other than that, I am totally fine with someone coming up to me anywhere, anytime, and telling me about his book, but not in organized pitch sessions. It's just too much pressure on the authors. And my bladder.
Oh: And as for my own stats, before adopting this policy, I signed five clients (and sold four of their books to publishers) in five years' worth of pitch sessions. So, while connecting at those events does happen, that's not a huge percentage of my list. Again, that's not the case for every agent, but for me, the majority of my clients still find me through the regular query inbox.
/